WMG Lab Records and Jo Jo Make Magic with "Rock With You"
Trinidadian production house WMG Lab Records composes the romantic soca gem "Rock With You" by soca songstress Joanna "Jo Jo" Hutton, now available worldwide from all major digital retailers, from FOX FUSE. Recently inking an exclusive digital distribution deal with FOX FUSE – the world's largest music label for soca and chutney, WMG Lab Records' catalog is now becoming available to the global audience, and "Rock With You" is one of its first releases through this new partnership.
"I've been producing music for five years now and my style of music is unique because I blend different kinds of music to make one sound," states producer Emmerson George, who helms WMG Lab Records. "It was fun working on the song with Jo Jo. We started it last November and just kept working on it until we were happy with the final track, and we had a plan in place to market it internationally."
The groovy tune was written by Jo Jo, who has been earning her place in the spotlight for years now, first as a member of the all-female soca band SASS Nation (alongside her sister Nadia Batson), before launching her solo career in 2013. "I feel privileged to have my music played internationally," states Jo Jo. "I believe that my music can have a positive influence on my listeners and I would never want to limit myself or my talent. 'Rock With You' is very special to me and when I initially got the track, the vibes came instantly and it was pure magic from there."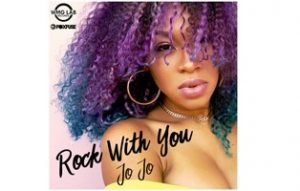 Please direct all press inquires to the FOX FUSE Publicity Department at 1-212-300-3813 or contact@foxfuse.com.