Cadance All Starts for Jazz 'N Creole in Dominica
Discover Dominica Authority announced the inclusion of the Cadence All Starts for the 7th Dominica's Jazz 'n Creole Festival.
The performance on May 15, 2016 at the Cabrits National Park will showcase the musical talent of Dominica's top musicians. The Cadence All Stars will feature Fitzroy Williams, founding member of Exile One band and cadencelypso icon; Cornell Phillip, bouyon music pioneer and keyboardist extraordinaire; versatile guitarist Jerry Moulon; drummer Jason Joseph, aka Froggie who performs with the Triple Kay Band; and bass guitarist Freddie Nicholas, of Bill O Men and mighty Arrow fame.
Lead singers are Carlyn Xavier- Phillip and Joy Stoute, who have held their own in the musical field. Caryln is a member of C Squared and Fanatik Band and won the 2016 Carnival Bouyon Monarch; Joy Stoute was a past winner of Q 95 Talent Search competition and has represented Dominica at various regional musical contests. Marketing Executive at Discover Dominica Authority Monique Jacob, stated that the Cadence all stars will make the event "well rounded with Jazz and Creole music."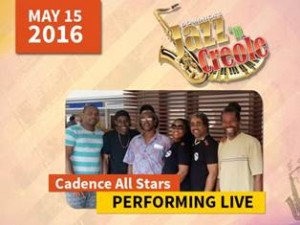 Digicel brand ambassador Michele Henderson noted that Digicel's sponsorship of Jazz 'n Creole for the past six years have been "solidifying its desire to help sustain culture and to promote Dominican artistes and to promote the island …. as a whole." As the Gold Partner for the 7th Dominica's Jazz 'n Creole, Digicel will not only promote the event locally, but will also promote the festival to jazz enthusiasts in the French territories of Guadeloupe and Martinique.
Other artistes carded to perform at the festival this year are Andy Narell Quartet, Cameron Pierre and Breve, Soft and Elan Parlé.
Confirmed partners for Dominica's Jazz 'n Creole are Gold Sponsor Digicel, Business Partners Dominica Brewery & Beverages Ltd, Fine Foods Inc, HHV Whitchurch & Co. Ltd, Rejens Hotel, West Indies oil, Courts Dominica, Rainbow Rentals, DA Vibes, Vibes Radio, DBS Radio, Kairi FM, The Sun Newspaper, The Chronicle, Dominica News Online and Le Pelican newspaper in St. Martin.