"America's First Soca Pop Star" (Rolling Stone) Bunji Garlin Continues To Make Headlines And Tour
September 19, 2014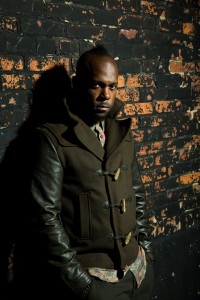 BUNJI GARLIN CONTINUES TO MAKE NATIONAL HEADLINES AND TOUR IN U.S.
Rolling Stone Goes On the Road with "America's First Soca Pop Star"
New York Times Raves New Album "Assuredly Moves Soca into the Now Era"
MTV Iggy Declares He "Will Change Soca Forever"
Trinidad's Hero Will Take Over Miami Carnival & Mad Decent Boat Party This Fall
New Album Differentology Out Now
Soca star Bunji Garlin continues to break through nationally. Following his BET 106 & Carnival takeover performance with Fay-Ann Lyons and A$AP Ferg and his recent FADER article, this week he lands homepage features with Rolling Stone and MTV Iggy as well as a glowing album review in Sunday's (Sept 14) New York Times. The Trinidad native's brand new album Differentology (RCA/VP) "assuredly moves soca into the now era" according to NY Times. MTV Iggy (who named the title track Song of Year in 2013) declares Garlin "will change soca forever" in their latest interview, while Rolling Stone calls him the "hardest working man in soca," after spending the week with him during NYC's West Indian Carnival festivities.
His work ethic is certainly paying off and without a moment's rest, Garlin will continue his ceaseless tour schedule throughout the year. Next month, he will take over Miami Carnival during Columbus Day weekend. After performing select dates on Mad Decent's Block Party tour this summer, he also teams up with the crew again in November. This time, he will hit the decks on Mad Decent's Boat Ride, a 4-night musical voyage from Miami to The Bahamas with Norwegian Cruise Lines. See flyer below for more details.
Purchase Bunji Garlin's Differentology now:
iTunes: smarturl.it/BGDifferentology?Iqid=yt
Amazon: smarturl.it/BGDifferentologyAm?Iqid=yt
CRITICAL PRAISE FOR BUNJI GARLIN'S NEW ALBUM DIFFERENTOLOGY
"…assuredly moves soca into the now era… an authoritative vocalist, and a fun one, too… sounds as if he's reporting from the future…uproariously engaging…squelches and stomps of modern dance music…"
– NEW YORK TIMES
"Garlin's debut exemplifies what it means to be a differentologist…blends dancehall, EDM and even trap ("Truck on D Road," with A$AP Ferg) into his sound, without ever seeming like he's trying too hard."
– ROLLING STONE
"The Trinidadian vocalist might be the shiniest star in soca music, but his new album throbs with a rich, pulsating pan-Caribbean energy that should translate easily on any dance floor."
– WASHINGTON POST
"…exceedingly danceable beats that fuse the island's irresistible calypso with EDM and hip-hop, as well as the traditional East Indian bhangra"
– NPR