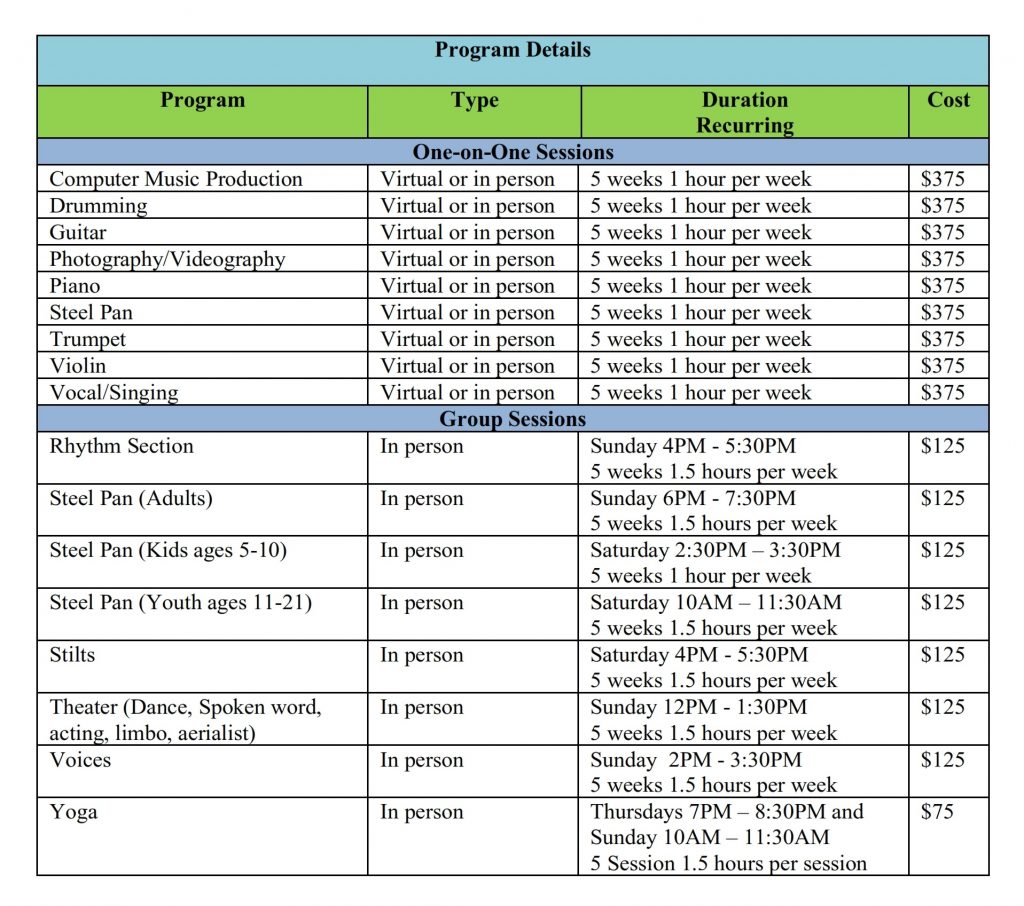 Financial Support at Your Fingertips
We understand that financial constraints shouldn't hinder your artistic journey. If you're passionate about joining our programs but facing economic challenges, Tropicalfete is here to help. Depending on available funding, we offer discounts or even free programs to support your artistic endeavors. Graduates of our various performing groups are exempt from this financial assistance.
Virtual Class Essentials
Embark on your virtual learning adventure fully equipped! Here's what you need to ensure a seamless experience in our virtual classes:
A Reliable Computer: Ensure your computer meets the necessary requirements for a smooth virtual class experience.
High-speed Internet Connection: A reliable and speedy internet connection is crucial for uninterrupted participation.
Quality Microphones and Webcam: Be heard and seen clearly with good-quality microphones and webcams, enhancing your virtual presence.
Google Account: Connect with ease by having a Google account, providing you access to our virtual classroom and meets.
Your Own Instrument: For a hands-on experience, make sure you have your instrument ready for an immersive learning journey.
Feel free to reach out to us at info@tropicalfete.com with any financial inquiries or for more information on our programs. We're here to support your passion for the arts!

Frequently Asked Questions
What age you need to be to take lessons? Answer: we welcome all ages but the person needs to sit/stand still for 60 minutes.
Should I bring my own instrument to lessons? Answer: Yes, but you need to get approval from instructor to ensure it meets industry standards. For in person classes instruments are provided for you.
Where are the lessons held? Answer: In person classes are 850 New York Avenue, Brooklyn, NY 11203 -2721 (Corner of Linden BLVD and New York Avenue). We have other classes at schools, libraries and other locations in the community
How long will I need to take lessons? Answer: Each series is 5 weeks. We start you at your skill level (Beginner-level – Intermediate-level – Advanced-level – Special Projects). After your series, you can purchase other series to continue to advance your skills. music is a science that can be studied for a lifetime and has numerous benefits.
Can lessons be rescheduled? Answer: Lessons can be rescheduled with 3-day advance notice.
Is payment refundable Answer: Payment is only refunded if there is a cancelation on the instructor end.
Will I need to purchase any additional? Answer: There are optional addons to the service you can purchase for example a yoga mat, steelpan sticks, books, parking etc.
Waiting list?Answer: info@tropicalfete.com if classes are not available or is fully book. We will notify you when there is an opening in the class.