The Legendary Lionel Belasco: A Calypso Founding Father
The Victor Recording Company's sessions in Trinidad, which produced the first recording of calindas (the chants accompanying carnival's stick fighting ritual) sung by Jules Sims, are also noteworthy for the virtuosic piano playing of Lionel "Lanky" Belasco. Born in 1881, Belasco, the son of an African-Caribbean mother and a Sephardic Jewish father, is considered among the most important musician of calypso's formative years. The leader of Belasco's Renowned String Band, which performed at elite society events in Trinidad, Belasco was also an arranger and a composer in addition to his role as manager and promoter for the London Electric Theater, the first silent movie theater/concert hall in Port of Spain. Belasco utilized the melodies of folk songs he heard in his travels throughout the Caribbean and South America to help shape calypso's early identity.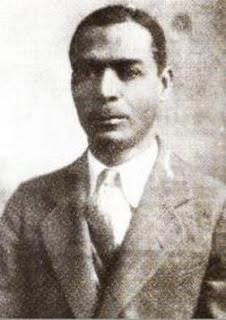 In August 1915 Belasco sailed to New York where, over the next seven years he would record numerous calypso instrumentals at various sessions with string bands for the Pace Phonograph Corporation's Black Swan label. In 1923 Port of Spain piano dealer H. Strong Ltd, also an agent for Victor Talking Machine Company, organized a plan with Belasco to send Guyana born vaudevillian singer Phil Madison to New York to record several songs that were part of his stage act. Madison also played the cuarto (a four stringed mini guitar, featured prominently in Trinidad's parang music) on these recordings with Belasco accompanying him on piano. Among their joint efforts was the very first recording of "Sly Mongoose", a Jamaican folk song that found immense popularity when performed in Port of Spain's calypso tents, as early as 1915. Throughout these recordings, Belasco's engaging, genre blurring style incorporated Dixieland jazz, Venezuelan folk, European classical music, and the era's ragtime (with Belasco often referred to as the Scott Joplin of calypso), accented by a distinctive Caribbean lilt that established calypso's acoustic foundation and gave the music its initial push outside of Trinidad.
All vocal calypsos recorded before 1927, with the exception of those cut by Julian Whiterose and Jules Sims in Trinidad in 1914, were sung by vaudevillians, not tent calypsonians. But that changed when Belasco teamed up with New York City based calypsonian Wilmoth Houdini (born in Port of Spain as Frederick Wilmoth Hendricks in 1881). Between 1927 through 1929 Belasco and Houdini recorded almost 30 calypso sides for the Victor Recording Company. Belasco is said to have made some 278 recordings of Caribbean songs between 1914 and 1945, more than any other bandleader or singer.
In addition to recording, Belasco ran a piano store in New York City, made piano rolls, (a continuous roll of paper with perforations, representing notes, punched into it, which are used to operate player pianos) and regularly returned to Trinidad for carnival, to hear the latest songs by the island's calypsonians. In 1945, Belasco made his very first recordings with calypsonians based in Trinidad; some songs that Belasco copyrighted were purportedly the work of other artists who did not have his understanding of standard music industry practices.
Lionel Belasco continued to record, in the United States and England, until the mid 1960s. He passed away in June 1967
Patricia Meschino