Out Today – JUL 30 – Alpha Blondy – Mystic Power
With over 15 albums under his belt, West-African reggae vocalist Alpha Blondy returns with his latest studio effort Mystic Power, available in U.S. digitally and in stores today July 30 on VP Records.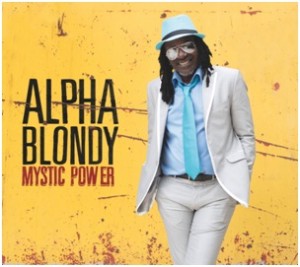 On Mystic Power, Alpha Blondy stays true to his signature contemporary world sound. His unmistakable vocals (which are a mix of English, French and his native language Dioula) are filled with socially-charged messages that effortlessly ride over Afro-reggae beats and jazzy funk-fused rhythms. He inspires change on opening track "Hope," which features Jamaican dancehall king Beenie Man, and offers a powerful rendition of Bob Marley's "I Shot The Sheriff" on "J'ai Tue Le Commissaire." Blondy then goes on to explain the true meaning behind "mystic power" on "Woman," a heart-felt tribute recognizing the strength and endurance of the entire gender.
"We've done a great job, my band Solar System and I. I wanted to innovate, amplify the whole rock aspect of our sound. You always hear roots rock reggae from us, but in fact it's more like roots reggae. I wanted to break free from the whole ethnic, tribal thing. I want to expand the reggae territory and reach out to all the fans. On this album, some of the songs are quite atmospheric, others are more guitar-based," Alpha explains.
Alpha Blondy's upbringing is as rich and diverse as his music. Hailing from the Ivory Coast, Alpha Blondy was born to a Muslim mother and a Christian father and brought up by a grandmother who taught him to love everyone. He always raised awareness about social injustice and aimed to promote unity in his lyrics and in real life, which eventually led him to become the Ambassador for Peace for the UNESCO, NATO and CEDEAO. The singer grew up listening to African folkloric music, but was influenced by American bands like Pink Floyd, Jimmy Hendrix, The Beatles, Creedence Clearwater Revival and Otis Redding. He was introduced to Bob Marley's music when he moved to New York to study English at Hunter College and in Columbia University's American Language Program. After a brief stint in Paris to record his 1984 album Cocody Rock, he headed to Jamaica to record the title track with Marley's backing group, The Wailers. Later, he returned to in Kingston's Tuff Gong Studios to record his third album Jerusalem (1986). By the release of his 1987 album Revolution, Blondy had already established himself as an international artist with a massive following in his native country, North America and Europe. His popularity continues to grow, and he continues to steadily release albums.