Shurwayne Winchester – #TUN UP – DOWNLOAD IT NOW!
Here he goes again! "Mr. Energy", Shurwayne is ready to release one to take you into the August heat. This release is dubbed #Tun Up. Shurwayne has been busy performing, he has managed across various carnivals throughout the Caribbean and in the easternmost states in the U.S. with his tireless energetic performances. With each show and performance, the outcome is always the same, the dance "Tun Up!", as West Indians love to say. Shurwayne has been hard at work in studios in and out of Trinidad with one goal in mind; to "Tun Up" carnival 2014.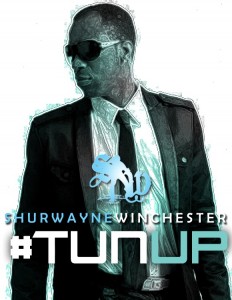 Thus far, the Tobago born crooner has composed songs with his natural writing ability and versatility for carnival lovers in St. Vincent, Tortola, Grenada, Barbados, and of course his home, Trinidad and Tobago. As Shurwayne continues to "TunUp" the energy and vibe, he is prepared to headline Atlantic City's carnival; a fairly new carnival in New Jersey, and to lead North Carolina's Caribbean festival as the Grand Marshall of the parade of bands in the weeks ahead. Now get ready for his next release, another hit on its way #Tun Up.This track comes on the Mic Jagger riddim produced by Dwaingerous. Ladies get ready to express yourself to your next hit #Tun Up.