Positive's 'Forever My King' is Available Worldwide Today Debuted on iTunes Top 20 Reggae Albums Chart
Positive's 'Forever My King' is Available Worldwide Today; Debuts on iTunes Top 20 Reggae Albums Chart
Trinidadian gospel reggae artist Positive sees the worldwide release of his sophomore album, Forever My King, today, December 4, 2012, from FOX FUSE. Forever My King debuted on the iTunes Top 20 Reggae Albums Chart, currently sitting at #19 in the middle of its first day of release – a tremendous accomplishment for this rising Caribbean phenomenon.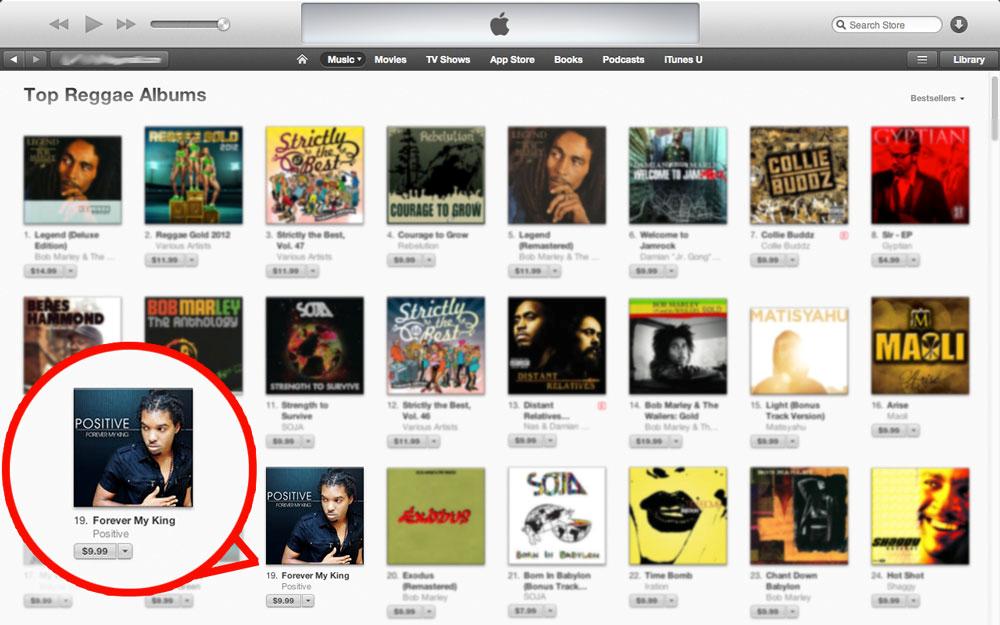 Putting a positive spin on reggae music, fused with a tinge of dancehall along with regional soca and calypso influences, Positive has earned acclaim from music critics and fans alike, ever since hitting the music scene just over five years ago. Forever My King showcases a seasoned lyricist and vocalist, whose talent shines on 16 glorious tracks.
Positive does justice to his name with this polished collection that captures his spirit, showcasing sincere, heartfelt odes. He invokes the power of the Most High in this musical manifestation, which was one year in the making. The lead single "Highest Of Heights" is a gospel anthem with an upbeat dancehall vibe, while the second single, "Mama You're Beautiful," is a gentle pledge of love to mothers everywhere. "Rock Of My Life," "Be My Comforter" and "Sunny Day" are classic gospel offerings, while tracks like "Let Me Be The One" serves up more crossover appeal with its R&B, lover's rock allure.
Forever My King is a personal prophesy from this profound artist, and the songs bear testament to his faith. "I am a believer in Christ and as such my talents and abilities must be used to glorify the God that I serve," reveals Positive. The album sees production from stellar names in Caribbean music, including Grammy-winning producer Dwayne "Supa Dups" Chin-Quee from Miami, Precision Productions from Trinidad, Jamplified Records and Jermaine Edwards from Jamaica, and J-Vibe Productions from the US, all joining forces with Positive, who produced the majority of the album, thereby fulfilling his musical destiny.
TRACK LIST
1. Rock My Life Feat. DJ Nicholas
2. Be My Comforter
3. Sweeter
4. First In Everything
5. Highest Of Heights
6. Forever My King – Interlude
7. Giving It All
8. Better Must Come
9. Lamb Upon The Throne
10. Let Me Be The One Feat. Niki Rymple
11. Destiny
12. Sunny Day
13. Got To Be Ready
14. Mama You're Beautiful
15. Music Is Life
16. I Trust In You Feat. Jermaine Edwards