Raging Fyah Plays Highline Ballroom w Stick Figure / New Studio Album Slated for May
RAGING FYAH – A NEW GENERATION OF ROOTS, ROCK & REGGAE ANNOUNCES U.S. SPRING TOUR WITH STICK FIGURE
New Studio Album Everlasting Slated for May 2016 on Dub Rockers
"…most promising acts…their revolutionary spirit evoking the late Peter Tosh or Steel Pulse circa the late 1970s" – Billboard
"whole crowd was drawn to its feet in a visible wave, like fallen dominoes getting up again." (in regards to their 2015 Rebel Salute performance) -VOGUE
Raging Fyah, one of Jamaica's most promising roots reggae bands of this generation, announces U.S. Spring tour with American reggae band Stick Figure. The five-piece Kingston collective will play solo dates in Colorado and Arizona (from March 1-5) beforing supporting Stick Figure in mid-March until end of April for the 25-city cross-country Set In Stone Tour. Raging Fyah will return back to the U.S. at end of May for the annual Cali Roots Festival.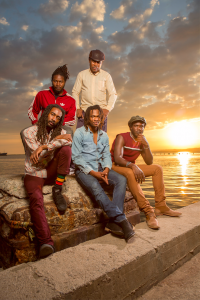 The progessive reggae band is also gearing up for the release of their eagerly-awaited studio album Everlasting, due in May 2016 on Dub Rockers, the newest imprint from the world's largest reggae distributor VP Records. Raging Fyah will tour in support their first two albums Judgement Day (2011) and Destiny (2014) as well as showcase new music from Everlasting.
Raging Fyah's soul-filled sound continues to make waves in the latest reggae renaissance. The buzzworthy band made both OkayPlayer LargeUp's and Marley Natural's 2016 Artists To Watch list, and their upcoming release has been selected by The Pier as one of 2016's Most Anticipated Albums.
Since their debut, their infectious vibes have been spreading like wildfire. The band has already made a name for themselves in their native country playing large stage shows such as as Reggae Sumfest, Rebel Salute and Jamaica Jazz and Blues Festival. They have also developed a devoted following internationally, after performing on South American stages as well as headlining major European reggae festivals (Summerjam, Rototom Sunsplash and Garance). They are steadily capturing the hearts of North American listeners too. They completed a mini-tour in California last year and played at the annual Sierra Nevada Reggae Festival in 2014. On the U.S. Spring 2016 tour, Raging Fyah hopes to expand their growing fan base and reach untapped markets.
Raging Fyah consists of Kumar Bent (lead singer), Courtland White (guitarist) Anthony Watson (drummer), Demar Gayle (keyboardist) and Delroy Hamilton (bassist). Some of the members met at Edna Manley College of Visual & Performing Arts in Kingston, but the band itself didn't form until 2006. Inspired by the likes The Wailers, Third World, Steel Pulse and Aswad, RagingFyah tackles similar topics of socio-economics and politics with an underlying message of hope and inspiration. Fueled by passion, purpose and life experiences, their lyrics touch and motivate people from all walks of life and their lush lively instrumentation soothes the soul. Their vintage sound coupled with a fresh contemporary flare gives them a particular edge over their predecessors.

Watch Raging Fyah ft. Kabaka Pyramid "Dance With You" off their latest album Destiny: