Out Today (4.20) | Sting & Shaggy "44/876" (4.20, A&M/Interscope) + Upcoming TV Appearances 
Sting and Shaggy's new, island-inspired collaborative album 44/876 is available now at all retailers and digital platforms on A&M/Interscope Records (see below for album tracklistings & configurations).
In creating 44/876, Sting and Shaggy drew from the many surprising connections at the heart of their music. With its title referencing their home country codes, 44/876 first and foremost honors the duo's love for Jamaica: Shaggy's homeland, and the place where Sting penned such classics as The Police's "Every Breath You Take."
Furthering each artist's exploration of reggae and its transcendent rhythms, the lead single "Don't Make Me Wait" – which debuted at #1 on Billboard's digital reggae singles chart – came to life after the musicians were introduced by Martin Kierszenbaum (Sting's manager, Chairman of The Cherrytree Music Company and Shaggy's former A&R executive). The correlating music video, directed by Gil Green, was filmed in Kingston, Jamaica and has garnered over 8.5 million views on YouTube.
Although the initial plan was for Sting to lend his vocals and musical finesse solely to this track, the two discovered that their distinct voices blended with incredible ease. Compelled by their creative synergy, Sting and Shaggy soon amassed an album's worth of material. "Everything about it is organic—it was never planned," says Shaggy of 44/876.
Recording in New York City, they enlisted a lineup of esteemed musicians and writers from Jamaica and New York, including the legendary Robbie Shakespeare of Sly and Robbie, dancehall sensation Aidonia, Morgan Heritage (courtesy of CTBC Music Group), Agent Sasco as well as Branford Marsalis and Sting's longtime guitarist Dominic Miller.
Produced by Sting International (Shaggy, Maxi Priest), Martin Kierszenbaum (Lady Gaga, Madonna, Robyn), iLLWayno (2 Chains) and Teflon (Ruff Ryders, Fat Joe) and mixed by Robert "Hitmixer" Orton (Lana Del Rey, Mumford & Sons), Sting International and Tony Lake (Sting, Lady Gaga) — 44/876 fuses infectious Afro-Caribbean rhythms with irresistible pop melody and massive hooks. In their lyrics, Sting and Shaggy take a cue from mutual hero Bob Marley and present a message of love, hope, freedom, and unity.
That optimism infuses such songs as "Waiting For The Break Of Day" (a piano-laced, gently soaring mid-tempo number) and "Morning Is Coming" (a brightly swaying track delivering silken grooves and sultry horns). On "Just One Lifetime," the pair uses a bit of poetry lifted from Lewis Carroll's "Through the Looking-Glass," their warm-hearted storytelling shifting from Sting's smooth vocals to Shaggy's masterful flow. And on the deeply stirring "Dreaming In The U.S.A.," with its urgent beats and uplifting harmonies, the duo detail their shared experience as outsiders pursuing the promise of the American dream.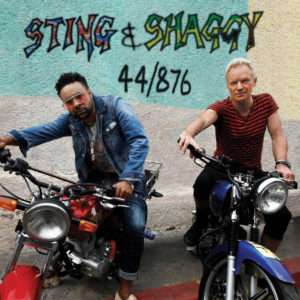 Fans, critics and fellow musicians have already shown incredible support for 44/876:

@MAJORLAZER: "SHAGGY & STING GONNA SAVE US ALL"
"The album's first single, 'Don't Make Me Wait,' a sway-inducing pop song with a reggae sheen, turns out to be only a taste of what these men can bring, their two vocal and musical styles melding into something as delicious as a plate of jerk chicken washed down with a cold beer." – Associated Press
"Sting's distinctive tenor is a highly appealing match for Shaggy's gruffly melodic dancehall toasting." – Rolling Stone
"The mash-up everyone is talking about!" – Good Morning America
"The steady, soothing guitar rhythm buoying 'Don't Make Me Wait' is as sunny as it gets, and Sting's smooth tenor makes for a surprisingly mellifluous pairing with Shaggy's rhyming." –Consequence of Sound
"'Morning Is Coming' is a total reggae ear-catcher, something that could bring the style of music back to the radio." – VVN Music
"It sounds like a collaboration that was always meant to be." – Noisey
"That album could well prove to be history in the making…"
– Echoes Magazine
Sting and Shaggy will take their collaboration on the road this summer when the two Grammy-award winning artists embark on a European tour of various historic venues, performing their most celebrated hits as well as songs off their new album together.