"Mikey Takes 'Feting Family' To Trinidad and Tobago" "Mikey Takes 'Feting Family' To Trinidad and Tobago"
Barbados'2018 People's and Party Monarch Michael "Mikey" Mercer has his eyes set on Trinidad and Tobago's 2019 Carnival celebrations. After creating quite a stir during the 2018 Cropover festivities with his party anthem ' Feting Family ' the single entered Trinidad and Tobago without any formal introductions. His recent visit to Trinidad and Tobago was to officially introduce himself and promote the widely received track.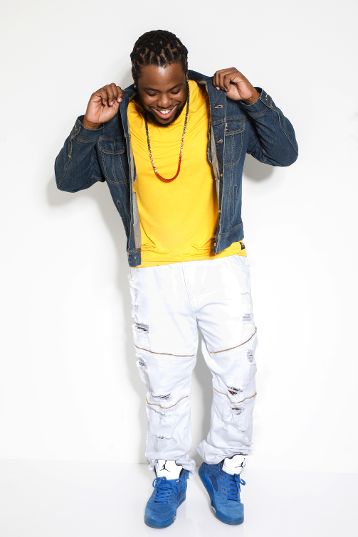 The Bajan sensation is no stranger to accolades. When asked to share them his modest responses usually leaves recipients stunned. His Party Monarch titles were captured in 2011, 2012, 2013 and 2018 along with Sweet Soca (Groovy) in 2012. In 2004, 2012 and 2013 Mikey walked away with the title of Road March King and in 2012, 2013 and 2018 the titles of People's Monarch were also his. Mikey's first attempt at writing sweet / groovy soca was 'Feting Family' which was initiated by an actual experience at a New Years party. "Both hands in the air, let me see my posse long time I eh see we all together so" is the his description of how he was greeted and felt as he walk through the doors. Throughout the song, he paints a clear picture of the oneness that is enjoyed when feting with his friends, Bajans and Caribbean natives.
"The reaction to the song was exactly as I envisioned it when I was writing" shared Mikey. He wished for the song to unify and to be accepted by the masses. When he had his first opportunity to perform 'Feting Family' he was literally moved to tears. Although the song captured second place titles for Sweet Soca and Road March it won the hearts of the people which led to him being awarded first place in the People's Monarch, an appropriate title for a song for the people.
Since his debut in 2004, Mikey has been consistently releasing top notch music that has allowed him to perform throughout the Caribbean, Canada, Europe and the USA. Besides his involvement in music, Mikey currently hold the title of "Strong Man", two year running for Power Lifting in Barbados. Also, through his charity Team Mikey, he provides relief to senior citizens and children through donations and scholarships. View Mikey's interview on O JO TTRN -Trinidad & Tobago Radio Network Limited