Nigerian Star Ebiflow Turns to Soca for New Hit Single, "Oh Baby" – In Stores Now
New York, NY – Nigerian R&B singer/songwriter Ebiflow joins forces with soca hitmakers Precision Productions from Trinidad and Homour Niger from Nigeria for his new hit single, "Oh Baby." The classic, vibrant vibes of Southern Caribbean and West African tempos set the perfect backdrop for this romantic, steamy ode to the ladies from the African artist, born Ebide Ben, who hails from the southern Nigeria city of Port Harcourt. With his sound and sight set on the international market, Ebiflow croons this song entirely in English, and the magnetic track is bound to attract an even larger fan base for the rising sensation, from Africa to the Caribbean and beyond. "Oh Baby" is now available worldwide from all major digital retailers (released on August 5, 2013), and is distributed by Precision Digital.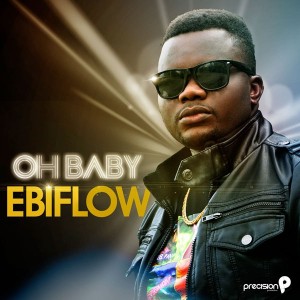 Penned by Ebiflow, Homour Niger and the Precision Productions team, "Oh Baby" was inspired by love and blossoms with lyrics that flow from happiness, according to the electrifying entertainer. "The song is meaningful to me because it is a true inspiration of love that brought about the song," reveals Ebiflow. "I recorded the song because it is going to make someone out there feel the power of love, and make them feel happy while dancing to the song."
With the inherent exhilarating, party energy that emanates from both soca and African music, this cool collaboration is rare but by no means a surprise to Precision Productions, which has garnered massive success as a production house over the past decade, and are acclaimed for its writing, producing, remixing, mixing, mastering and engineering credits on the majority of top tracks in soca music in the recent years. "Our eyes have been set on the Nigerian and African market for some time now," discloses Kasey Phillips of Precision Productions. "We are very interested in that territory, so we're thrilled with the outcome of this collaboration."
"Oh Baby" by Ebiflow is now available worldwide from all major digital retailers, from Precision Digital, a distribution partner of FOX FUSE.