Demarco Soaring the International Music Charts
KINGSTON, JAMAICA | AUGUST 5, 2013 | Despite missing Reggae Sumfest due to overseas commitments, the popularity of Jamaican superstar Demarco continues to soar across the globe. In recent weeks four of his singles have bullied their way onto various charts and playlist internationally, threatening to clinch the top spots.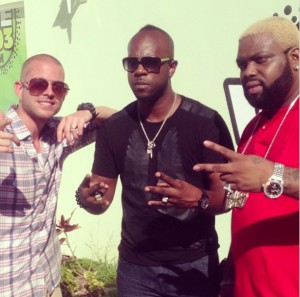 His Soca influenced Continue Whine is currently No.5 on Canada's Radio Dubplate chart and one of the most played songs on the Triple R Reggaeton Chart, while the Hitmaker Muzik produced Apartment sits at No.6 on Britain's Choice FM Reggae Charts. On the South American continent Dem A Work and Nah Move Careless were just added to the radio playlist in Colombia and French Guiana.
Locally, Continue Whine presently occupies the No.4 position on Hype TV Top 20 Chart and No.2 on the FIWI Choice Top 10 video countdown. In the coming days Demarco and his team will be releasing three new videos for summer namely: 'Money', 'Apartment' and 'Party' featured on the First Capital Rhythm, Seduction Rhythm and Goosebumps Rhythm respectively.
In a release to the media Demarco says, "Performing at Reggae Sumfest would have been great because it's a staple on the international social calendar that people look forward to annually but I was in the middle of my Canadian tour and couldn't make it… Next I'll be releasing three new videos before I got to Costa Rica and Australia, because when you're constantly on tour it is very important to stay connected with the fans."
Commenting on his ongoing chart success he added, "I am very pleased with the progress of the songs and again this highlights the importance of us as entertainers to not just do music only for Jamaica but songs that can appeal to an international audience." Earlier in the year the 'Love My Life' singer scored his 14th number one with 'Standing Soldier' on the Austrian iTunes chart.
Amidst preparation for Costa Rica and his upcoming tour of Australia, Demarco just wrapped a six city tour of Canada with stops in Calgary, Mississauga, Vancouver, Brampton, Toronto and Winnipeg. Last weekend the multi-talented entertainer headlined the Digicel sponsored 'Soca vs Reggae (SVR)' concert in Bermuda alongside Bunji Garlin and Fay-Ann Lyons.