New Reggae Music Alert: Excellent Feat Messiah's – You're The Reason Remix (JahLight Records/21st Hapilos)
In 2014, she released the wonderful, 'Love Language' and now she is back to release her new reggae single entitled 'You're The Reason REMIX that features upcoming singer, Messiah's. The original track and production was done by Trinidad based label, JahLight Records which was apart of their compilation album, the Jehovah Riddim.
On hearing the original track a producer which is also apart of Excellent's family, Mr Joey Allert,  decided to take it one step further as he thought it was fit enough for a remix. He started to experiment with the riddim and came up with something very unique. On hearing it JahLight Records CEO was impressed and decided that it was a start of something great. The engineering aspect of the work was given to Transic Music's very own Koen Duncan (artist and producer), who dealt with the mixing of the new production plus the mixing over of the vocals. Now here we have it; polished and refined and ready to hit the road.
This brand new track by Excellent was released on all major digital outlets on Friday 3rd June, 2016 by the highly acclaimed, 21st Hapilos. We thank you for your continued support and we hope you enjoy this new reggae track. Blessings.
Song: You're The Reason Remix
Artist: Excellent Feat Messiah's
Label: JahLight Records
Release Date: June 3rd 2016
Genre: Reggae
Distributor: 21st Hapilos
Excellent Feat Messiah's – You're The Reason Remix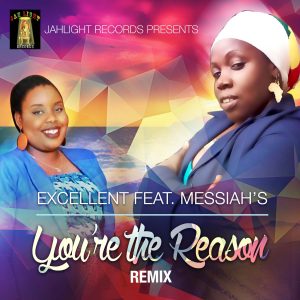 Connect on Social Media:
Facebook 
Excellent: https://www.facebook.com/Themusicalmastermind?fref=ts
JahLight Records: https://www.facebook.com/jahlightrecords/
Twitter
Excellent: @QueenExcellent
JahLight Records: @jahlight