Etana Kicks Off U.S. Tour Today / In June Joins Hawaiian Singer Anuhea for Queens Of The Islands Tour
ETANA AND HER BAND RAW SOUL REBELS
KICK OFF THEIR U.S. SPRING 2015 TOUR THIS WEEK
IN SUPPORT OF LATEST ALBUM I RISE
Following Her Recent Initiative to "Stop Ebola and Build For the Future"
Jamaican Reggae Singer Joins Hawaiian Songstress Anuhea on
June Dates for The Queen Of The Islands Tour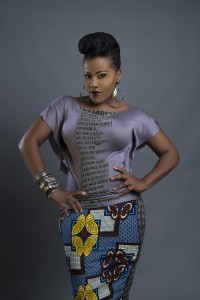 On the heels of Etana's United Nations' performance and the release of her "Better Tomorrow" single for the "Stop Ebola and Build For the Future" campaign, the reggae singer along with her band Raw Soul Rebels will embark on her Spring 2015 U.S. tour. The tour kicks off in Raleigh, NC on May 15, 2015, heads Northeast and covers Midwest and West. For the June portion of her tour, Etana joins forces with Hawaiian songstress Anuhea for the Queen Of The Islands Tour, a one of a kind musical experience starring reggae's top female solo acts of this generation. See full schedule below.
In addition to raising awareness for her most recent initiative to fight Ebola, Etana also continues to tour for her latest album I Rise (VP Records). These dates will be the second leg of her U.S. tour supporting the release.
Purchase Etana's I Rise now on iTunes:
https://itunes.apple.com/us/album/i-rise/id928716950
The soulful Jamaican vocalist who has been described as "reggae's Jill Scott" (NPR) or"reminiscent of India.Arie" (Essence) – dropped her fourth album I Rise on Oct 28, 2014. The album was helmed primarily by the legendary Jamaican multi-instrumentalist and producer Clive Hunt (Stevie Wonder, Peter Tosh, Rolling Stones, The Wailers, Grace Jones, Jimmy Cliff). It hit #1 on the U.S. Billboard Reggae Album chart, making Etana one of the three Jamaican female artists ever and the first in nearly two decades (since Diana King and Patra in the mid-90s) to land this highly-coveted chart position. I Rise follows Etana's critically-acclaimed albums Better Tomorrow (2013), Free Expressions (2011) and The Strong One (2008). With poised assurance, she continues to evolve spiritually, mentally, emotionally and musically and carry the torch as reggae's leading lady.
In conjunction with VP Records and led by United African Congress, Give Them A Hand Foundation and the Friendship Ambassadors Foundation, Etana recently became actively involved with the "Stop Ebola and Build For the Future" campaign. She performed at a special launch event held in the United Nation's headquarters in NYC. Her song "Better Tomorrow" was also chosen as the initiative's official anthem. She is donating the song, so that the proceeds go towards children orphaned by Ebola and rebuilding the communities affected in Guinea, Liberia and Sierra Leone. The song was featured on the iTunes Music homepage and peaked at #2 on iTunes reggae singles' chart. Purchase now: http://smarturl.it/BetterTmrwUNMEER Also, watch a series of online video shorts highlighting the issues and featuring "Better Tomorrow" as the theme song:
http://www.youtube.com/playlist?list=PLBb9w0
http://www.facebook.com/OneEtana
http://instagram.com/etanastrongone
http://www.etanathestrongone.com
U.S. Tour Dates:
May 15 @ Nuvo Lounge in Raleigh, NC
May 17 @ Montego Caribbean Lounge in Virginia Beach, VA
May 20 @ Howard Theatre in Washington D.C.
May 21 @ The Grog Shop in Cleveland Heights, OH
May 22 @ Kola Ultra Lounge in Farmington, MI
May 23 @ The Wild Hare in Chicago, IL
May 24 @ Fine Line Music Cafe in Minneapolis, MN w/ Ryan Daniels
May 25 @ Vaudeville Mews in Des Moines, IA
May 27 @ Bottleneck in Lawrence, KS w/ Gonzo
May 28 @ Hodi's Half Note in Fort Collins, CO w/ Gonzo
May 29 @ Fox Theatre in Boulder, CO w/ Selassie & Family
May 30 @ Cervantes in Denver, CO w/ Gonzo
Jun 1 @ Liquid Joe's in Salt Lake City, UT w/ Gonzo
Jun 3 @ The Showbox in Seattle, WA w/ Anuhea
Jun 4 @ Wonder Ballroom in Portland, OR w/ Anuhea
Jun 5 @ Arcata Theatre Lounge in Arcata, CA w/ Anuhea
Jun 6 @ Mezzanine in San Francisco, CA w/ Anuhea
Jun 7 @ Mystic Theatre in Petaluma, CA w/ Anuhea
Jun 10 @ The Catalyst in Santa Cruz, CA w/ Anuhea
Jun 11 @ The Observatory in Santa Ana, CA w/ Anuhea
Jun 12 @ The North Park Theatre in San Diego, CA w/ Anuhea
Jun 13 @ Reggae In The Desert in Las Vegas, NV w/ Anuhea
Jun 14 @ Livewire in Scottsdale, AZ w/ Anuhea