East Coast GYI U.S. Tour – Damian "Jr. Gong" Marley, Stephen "Ragga" Marley, Julian Marley, Wayne Marshall, Jo Mersa, Christopher Ellis & Black-Am-I
Ghetto Youths International announces new U.S. tour dates that span across the East Coast throughout Labor Day weekend. The shows will feature performances by rising Ghetto Youths Crew members Wayne Marshall, Jo Mersa, Black-Am-I and Christopher Ellis along with reggae heavyweights Damian "Jr Gong" Marley, Julian Marley and Stephen "Ragga" Marley.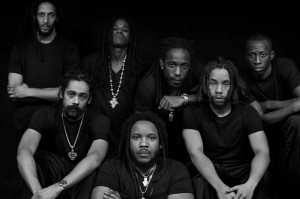 The entire crew, who recently wrapped an extensive U.S. Pacific Coast run, will kick off this Northeast portion on Thursday, Aug 29 in Boston, MA at the House Of Blues. They will join in on all the Labor Day festivities across New York City. The gang will perform at Hot 97's On Da Reggae Tip 2013 on Friday, Aug. 30 in Manhattan, then head to Brooklyn's Barclays Center on Sunday, Sept. 1. The following day (Mon. Sept 2) they will stay in the borough to float down the Eastern Parkway for the annual West Indian Day Parade. That same night, the Ghetto Youths Crew (Wayne Marshall, Jo Mersa, Black-Am-I and Christopher Ellis) have a their own showcase at SOBs in the city. In between the NYC dates, they also will perform in Essex Junction, VT on Sat. Aug 31. See full tour schedule below.
Ghetto Youths International is the family-owned record label incorporated in 2002 by Bob Marley's sons Julian, Stephen and Damian. The entity allows the brothers to work closely with each other on musical collaborations and release a catalogue of works featuring a new crop of artists as well as their own material.
These tour dates will support their recent compilation Ghetto Youths International Presents Set Up Shop Vol. 1, released in February on the Ghetto Youths imprint. The 14-track compilation features the talented Ghetto Youths International artists including Jo Mersa, Wayne Marshall, Black-Am-I, Christopher Ellis, Stephen "Ragga" Marley, Julian Marley and Damian "Jr. Gong" Marley and many more. The album peaked at #1 on the U.S. Billboard Reggae Album chart and the U.S. and Japan iTunes Reggae Album chart. Set Up Shop Vol 1. also landed the # 2 spot on iTunes Reggae Album chart in the United Kingdom.
The Ghetto Youths movement will also continue this summer and fall with solo projects from the crew's next generation of Jamaican reggae stars. The multi-faceted dancehall artist and songwriter Wayne Marshall is set to release his GYI debut album TRU Colors in early September. The dancehall star recently unveiled his brand new video, directed by Jay Will, for the album's explosive single "I Know" (produced by Damian Marley and Sean "Young Pow" Diedrick). VIBE premiered the visual and says Marshall "rocks the party" on this "turnt-up bashment."
New EPs will follow from the culturally-inclined reggae singjay Black-Am-I, Christopher Ellis (the youngest son of legendary Jamaican vocalist Alton Ellis) and Jo Mersa (the third-generation offspring of Bob Marley and eldest son of Stephen "Ragga" Marley). Stephen "Ragga" Marley is also gearing up for his next studio album Revelation Part II: The Fruit of Life, set to be released in the fall.