VP Records Celebrates Record Store Day (Apr 16) w Live Sets from King Jammy, Downbeat The Ruler & more + 2 Limited Edition Vinyl Exclusives
In honor of Record Store Day, VP Records will host two epic showcases held simultaneously on Sat. April 16, 2016 at VP Records' retail stores in NYC and South Florida. The events will feature some of the biggest sound systems in Jamaican music and give fans and collectors a real taste of the island's culture. The group of DJs, engineers and MCs will go round for round, battling it out for the ultimate showdown. These indoor and outdoor bashments will go from 12-7pm ET and will be live streamed on Randy's Radio. There will be limited edition RSD exclusives available for purchase on a first-come, first-serve basis, plus great deals on vinyl and vintage products.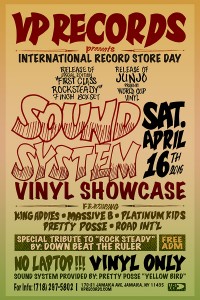 In New York (170-21 Jamaica Ave, Jamaica, NY 11432), Downbeat The Ruler, one of the United States' first sound systems founded in Bronx, NY in the late 1970s, will deliver a stellar set. In addition, sounds and selectors Massive B, King Addis, Platinum Kids, Fatman and Pretty Possee will go wheel-to-wheel for the winning title based on the crowd's response.
In South Florida (6022 S.W. 21st Street, Miramar, FL 33073), the seminal Jamaican producer and dancehall innovator King Jammy will get behind the turntables for a one-of-a-kind vinyl only set. Then, popular sound systems like Waggy T Movements, Galaxy Sound Station, PeppaBox Sound and Metrix International will round out this historic event.
VP Records will release two crucial limited edition vinyl pressings exclusive for Record Store Day, entitled First Class Rock Steady via 17 North Parade and Junjo Presents World Cup (Extra Time) via Greensleeves. Both titles will be available at these retail stores on RSD.
2016 marks the 50th anniversary for Jamaica's celebrated musical genre rocksteady. To commemorate the era, VP Records' vintage imprint 17 North Parade presents First Class Rock Steady, a special vinyl singles box set collection with 14 classic rocksteady gems as a Record Store Day 2016 exclusive. Rocksteady, which used elements of rhythm and blues (R&B), jazz, ska as well as African and Latin American drumming, was a successor of ska and precursor to reggae. The vinyl singles package will be followed by a 2CD (30 track) collection on July 1st, which is International Reggae Day. Each sought-after track is re-mastered and paired with a complimentary hit title from the era on the B side. The detailed packaging evokes the excitement of the era when snail mail was the only mode for sharing this burgeoning Jamaican export for worldwide consumption.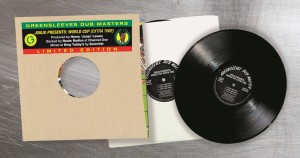 Also available for the first time on vinyl, Greensleeves Records releases Junjo Presents World Cup (Extra Time), produced by arguably the most dominant Jamaican producer of the 80s era Henry "Junjo" Lawes, scored by famous session band Roots Radics and mixed by the go-to engineer Hopeton "Scientist" Brown. The iconic UK-based powerhouse revives six rare dub tracks from the 2002 CD re-issue of Wins The World Cup. The release is authentic to how the record would have been packaged in the '80s. World Cup features updated illustrated cover by Greensleeves long-time illustrator Tony McDermott, plus artwork printed on the reverse sleeve. This limited edition piece is a precursor to a special edition reissue of Wins the World Cup LP.
From rocksteady to dub, those lucky and loyal Jamaican music enthusiasts will have two timeless gems of each genre this Record Store Day.