VPAL Release (Nov 18) – Lady Saw – Alter Ego
LADY SAW REVEALS ALTER EGO ON NOVEMBER 18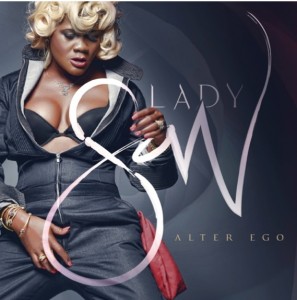 New Album Distributed by VPAL Celebrating the Multi-Faceted Queen of Dancehall
Next week, VPAL, VP Records' subsidiary label and distribution arm, teams up with Lady Saw's label Diva Records to release her new album Alter Ego, available November 18, 2014. The Queen of Dancehall is celebrating 25 years in the business with Alter Ego.
The album puts her creativity on full display and showcases both the racy side of "Lady Saw" and the more subdued side of "Marion Hall." The album features collaborations with Beres Hammond, Estelle, Ali Campbell of UB40 and Flo-Rida. Judging by her latest singles, "Hoping" and "Me & Mi X", Lady Saw is adding some extra sizzle to the holiday season and posed to ignite the charts. The Queen is back and she means business.
LADY SAW
Lady Saw is a musical pioneer. She is the first female Jamaican artist to win a Grammy, certify as a triple-platinum artist and headline dancehall shows outside her native country. Born Marion Hall in Galina (parish of Saint Mary), she started her career on local sound systems like many artists on the island. As a female artist in a male-dominated world of Jamaican dancehall reggae, Lady Saw defeated all odds when she went on to top the Jamaican charts with "Find a Good Man." In 1999, she had a major hit in the United States with "Smile," recorded with Vitamin C, which peaked at number 18 on the Billboard Hot 100. The song was also a major hit in New Zealand and Canada and made certified gold with over 500,000 sales. In 2002, her collaboration with No Doubt, "Underneath It All" reached number three in the U.S. and sold more than three million copies, reaching triple platinum certification. The track also won a Grammy Award for 'Best Performance by a Duo or Group.' Lady Saw released a total of 6 albums on VP Records and then formed her own label called Divas Records. In 2010, she released her first independent album entitled My Way, which was later followed up by the hot single Heels On that reached #1 on all Caribbean charts globally. Saw is known mostly for her daring sexually-explicit lyrics and sassy style, but she is a very versatile artist. Saw's stage persona as Lady Saw is a distinct contrast to her true self Marion Hall." When she was younger, Saw sang in her church choir, so it wasn't far fetch she announced that she would be concentrating on Gospel music in 2012. Now she teams back up with the VP Records via VPAL for distrubution only on her upcoming release Alter Ego.
Alter Ego Track Listing:
1. What Kinda Man featuring Estelle
2. I Do Love You featuring Ali Campbell
3. She Has Changed featuring Beres Hammond
4. STD
5. Hate Your Guts
6. Nuh Yuh Business
7. Whine
8. Pretty Fingers
9. Mi & Mi X
10. Heels On Remix featuring Flo-Rida
11. Cockpit
12. Hoping
13. Selfie
14. Heaven