T.O.K. Thrills with Provocative New Single, "Want U Body"
New York, NY – Dancehall supergroup T.O.K. remains the talk of Kingston and more, with the their new smash single "Want U Body," available today, August 12, 2013 on all major digital retailers worldwide from Kick Dem Records, distributed by FOX FUSE. Released in two versions, "Want U Body" for radio and the explicit version, "Want Punanny" for the dancehall massive, these signature dancehall tunes bring T.O.K.'s trademark party vibes and make for the perfect soundtrack to keep you dancing all year long.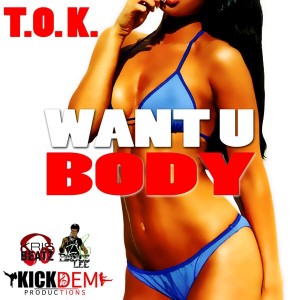 Penned by T.O.K. and produced by Jermaine "ZJ Bruce Lee" Bennett and William "Kris Beatz" Murray for Kick Dem Records, T.O.K. has tongues wagging, airwaves jumping and dance halls gyrating with their new sizzler. The provocative single is currently enjoying heavy rotation on radio in Jamaica, across the Caribbean and on reggae specialty programming across the world.
Described by The New York Times as "the world's greatest dancehall-reggae boy band," T.O.K. emerged in the early 90's and catapulted to international fame with the arrival of the new millennium. Group members Xavier "Flexx" Davidson, Craig "Craig T" Thompson, Alistaire "Alex" McCalla and Roshaun "Bay-C" Clarke are responsible for bringing modern dancehall to mainstream radio globally, with a slew of blockbuster hits that include "Eagles Cry," "Gal You A Lead," which peaked at #85 on the U.S. Billboard Hot 100 Chart, and "Footprints," which also landed at #93 on Billboard Hot 100. The power group continues to tour globally, having endured over two decades at the forefront of the dancehall genre, and reclaims the bar which they set.
"After we recorded the song, we realized it had potential, not just local potential in Jamaica but international potential as well," reveals Flexx of T.O.K. "For a group like us that's been in the business for so long, when we record a track like this, we try to make a mark musically and we make sure we do it properly, especially for a new label like Kick Dem Records."
"We decided to release a timeless, classic dancehall track that you can just pop in, press play and the party is there," discloses ZJ Bruce Lee of Kick Dem Records. "We had to get T.O.K. involved because of their legacy and we're happy to see everyone embracing the song on radio and in the clubs here in Jamaica. Now it's released to the world so we can't wait to see where it goes."
"Want U Body" and "Want Punanny" by T.O.K. are now available from all major digital retailers worldwide.