Natural Black, Junior Kelly and Prestige Rock Reggae On The River 2013!
International reggae stars Junior Kelly, Natural Black and Prestige each took the stage at the mega 4 days festival "Reggae On The River" this past weekend in California. The 29th annual Reggae On The River Festival welcomed record breaking crowds thirsty for music and vibes!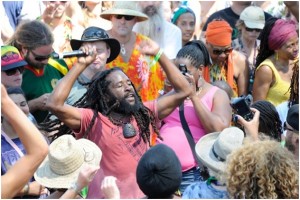 Natural Black took the stage on Saturday, August 3,2013 and dominated Reggae On The River. The artist gave an 80 plus minutes performance, starting from Conquer Dem (On the I Swear Riddim), Just Like In The Movies, Stubborn Woman, No Cry Cry Smile, Never Hurt, Nice It Nice, Wanna Tell You I Love You, Revolution, Don't Play With My Heart, People Will Say, Beautiful Place, Exalt His Name, Natural Chronic, Who Cares For Me, Far From Reality and many other hits. With the sweet sounds coming from his harmony singers and the melodious riddims of his backing band, Natural Black captivated his audience and quenched their musical thirst.
The following day, Sunday, August 4, 2013.Junior Kelly performed to rave reviews, fans anticipation was at an all time high as this was his first Reggae On The River performance.
As Kelly belted out the first notes of Tough Life, Junior could do no wrong, and had his screaming fans eating out of his hand, he could no wrong. For almost an hour and a half, kept it going with Korruption, Rasta Should Be Deeper, Black Am I, Boom Draw, Blaze, More I see You, Missing You, Hungry Days, Piece Of The Pie, Been There, You Can Make It, Believe In Yourself, Love So Nice, Receive, Smile and Sunshine amongst other renditions..
On the same Sunday, conscious reggae artist Prestige also took to the stage and performed to great responses from the crowd. Prestige sangs such songs as Hustler, Smoke Free, Happiness, Thank You Mama, I Am Bless, My Pride, Tender Loving, Do You Think Of The Poor. During his performance, The artist pleasantly surprised the fans by going into the crowd and greeting the musical patrons, by many accounts his set was refreshing and the perfect gift of a hot summer day!
Watch Video Here: