Christopher Martin Granted His Own Day in Hartford Connecticut
New York, New York (August 13, 2013) – International Young, Hip and Soulful reggae crooner Christopher Martin have been given the key to the city of Hartford, Connecticut and granted his own day.
After making his debut to the world in 2005 and being crowned Digicel Rising star, Christopher Martin has become an international household name to many. With his hit single 'Cheaters Prayer' he has achieved international acclaim from numerous industry outlets and musical features. Yet, this past Saturday, August 10th, Christopher Martin received one of the highest honors to date, Christopher Martin Day.
On Saturday, August 10 council woman Veronica Airey-Wilson, of Hartford Connecticut presented the distinguish order of proclamation to Christopher Martin.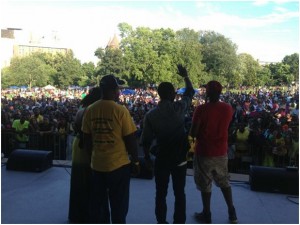 "It is our please and honor to present to you the proclamation of Hartford Connecticut and officially mark todays date, August 10th 2013 as Christopher Martin day" said Council woman Veronica Airey-Wilson.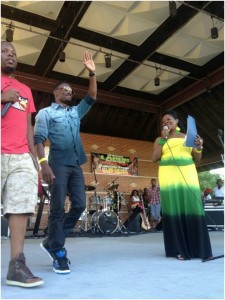 With a smile on his face and a screaming crowd of several thousands before him, it was evident that Christopher Martin was extremely honored.
"Its a pleasure to know that people are acknowledging the work I am putting in and taking the time out to let me know how much they appreciate my work. This proclamation is an honor to receive, as well as to have my own day. Eight years ago I never thought I would have my own day anywhere in the world and now I can say, sky is the limit. Give thanks to the Father above, my management team and all the people who played an integral part in my career your names are too many to mention. Thanks to the West Indian Caribbean Association of Hartford, councilwoman Airey-Wilson, fans of Connecticut and the people of the city of Hartford. Ill be back next year Cheeny Big Son" says Christopher Martin.
Christopher Martin has recently shot the video for 'Baby I Love You', soon to premiere and he is scheduled to return to Guyana next week.