RegulaZ "Get Loud" with New Single from 1st Klase Records
New York, NY – Trinidadian trio RegulaZ serves up their second single with new hit "Get Loud," available today, September 3, 2013, from all major digital retailers worldwide, distributed by FOX FUSE. Produced by 1st Klase Records, "Get Loud" is a fusion of flavors derived from their rich island heritage in the Caribbean, along with pop, hip-hop and electronic influences from around the world, as the RegulaZ keeps their fingers on the international pulse, for music fans everywhere.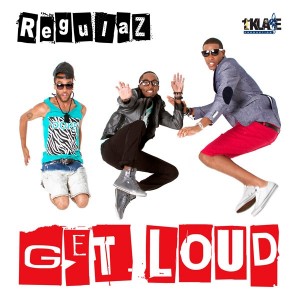 The eclectic collective known as RegulaZ consists of singers/songwriters Jason "Duc J" Dick, Kerdell "Nessy" Phillips and Ishmael "Sween" Haynes, who all hail from the northern town of Morvant in the Saint George region of Trinidad and Tobago. Their sound can be described as a unique blend of hip-hop, pop and dance music. The group is coming off the success of their first single "Mary Jane," which remains in rotation on radio in Trinidad and across the Caribbean, and its official video recently scored a prized premiere on VEVO. "We're really proud to be one of the few Caribbean-based artists with our own VEVO channel," the group says.
FOX FUSE exclusively distributes 1st Klase Records' releases and maintains a strong partnership with VEVO, so videos are monetized and artists get paid each time their videos are viewed. "We have been securing VEVO channels for the artists we distribute so their videos, and thus music, are more accessible worldwide," states Zack Cohen, CEO of FOX FUSE. "We give our clients the edge that's needed so they have the tools to compete in the global marketplace. Their videos are right up there with every other mainstream artist and that spotlight is required for any major music release, regardless if you're from the Caribbean, Africa, or even North America."
RegulaZ is currently working on their first album, under the direction and mentorship of hit producer Klase Gonzales, CEO of 1st Klase Records, who has quickly evolved into one of the Caribbean's most prominent and successful music producers today. He rocketed to the forefront of the music industry in record time and the American music industry came knocking, as Gonzales is now signed as a producer to Wonda Music, fronted by Grammy Award-winning hip-hop producer Jerry 'Wonder' Duplessis. With 1st Klase Records captaining their ship, these brothers in music indeed hold the elixir for success and have accepted the challenge to transcend all barriers and be the catalyst to develop and fuel urban-pop music throughout the Caribbean and the rest of the world.