"OKTOBERFEST EN Kweyol" is Here Again!
The sixth annual Oktoberfest En Kweyol, staged by Windward and Leeward Brewery Limited was launched here Wednesday evening, August 28 at the Bay Gardens Inn, Rodney Bay. A number of invited guests and the media converged in the conference room to hear what the organizers have in store this year.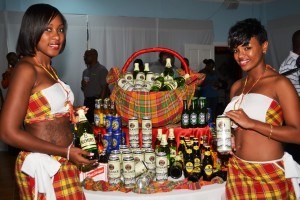 Gregg Graves Managing Director of WLBL first gave some introductory remarks on the history and origins of the festival, which he said first started as a wedding celebration in Europe around the 1800's. "It really is a celebration that has grown over the years and is now celebrated in countries across the world in Germany, in Canada and now in Saint Lucia where we are now six years strong," Graves said. "Oktoberfest en Kweyol" this year will be held on Sunday October 6 and will including a local creole cuisine, a variety of world class beers and entertainment. Before the entertainment line-up was unveiled the MD noted; "I think we have a great sample of entertainment as well as a sampling of different product of beer that we dot normally have on island beyond the normal beers from our portfolio."
Gaius Harry of WLBL then introduced the performers for this year's "Oktoberfest en Kweyol," saying that the event had cemented its place in the cultural calendar of events in Saint Lucia. "This signals the start of Creole Heritage month in Saint Lucia and with our heavy emphasis on creole music we believe that this year's line up will definitely be welcomed and appreciated," Harry said.
The entertainment for "Oktoberfest en Kweyol" this year will be headlined by Midnight Groovers of Dominica. Also scheduled to perform are DYP, Mamai Lacaye, Secret Band, Avot Servis, Harmonite Steel Band, Lighting dancers, and the 2013 Piton Soca Starz winner Soca Bandit.
To compliment all of this of course are the beers and this year Oktoberfest en Kweyol will feature six international beers. These will include the Oktoberfest beer Paulaner Beer, Amstel Extra, Parbo Beer, Bulmers Pear Cider, Desperado Red, Affligem Blond.
"Oktoberfest en Kweyol" is once again endorsed by the Folk Research Center and the Saint Lucia Tourist Board. The event is sponsored by LIME, Landmark Event and the official media partners are the Wave, DBS and RCI.