REGGAE GOLD 2013 In Stores This Week + Exclusive Mp3 Stream from Angela Hunte
For over two decades, VP Records has compiled the best-selling annual reggae series Reggae Gold. The compilation is in stores this week, joining Jamaica's leading artists with American acts influenced by the Caribbean.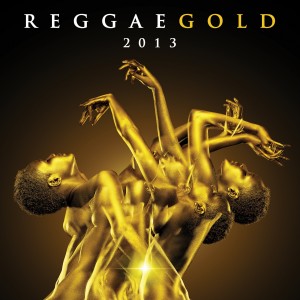 With the increasing popularity of reggae and dancehall in the U.S. mainstream, 2013 thus far is a pivotal year for Jamaican music. Many of America's top artists including Jay Z, Kanye West, Major Lazer and Snoop Lion recently incorporated the island's artists, music and culture into their own sound. This year's installment of Reggae Gold features Jamaica's hottest hits as well as the year's most essential songs that have helped bridge the gap between the island and the rest of the world.
The set kicks off with rap-star-turned-Rastafarian Snoop Lion's reggae-influenced sound on "Lighter's Up" featuring vocals from Kingston's dancehall don Mavado and rising star Popcaan and then Major Lazer's "Jah No Partial" with legendary Jamaican vocalist Johnny Osbourne. The latter hit song from the DJ/producer supergroup – consisting of Diplo, The Jillionaire and Walshy Fire of Black Chiney – was the first single off their sophomore album Free The Universe that peaked at #34 on U.S. Billboard Top 200 Album Chart. Fans will also get a chance to listen to the never-before-heard track "One Shot" from singer-songwriter Angela Hunte, who not only contributed lyrics and vocals for both Snoop Lion and Major Lazer's recent albums, but was the mastermind songwriter behind Jay Z's Grammy-winning song "Empire State of Mind" featuring Alicia Keys.
Native Jamaicans anchor Reggae Gold 2013 with the year's most popular dancehall, roots & culture and lover's rock hits. Multi-platinum artist Sean Paul returns to the dancefloor with his latest club anthem "Body." The country's latest crop of artists get everyone moving, such as Konshens on the sizzling single "Bad Girl" and I-Octane on the steamy song "Gal Gimme Bun." The latter half of the album offers more romantic tunes. Grammy-winning Jamaican native Shaggy and the legendary soulful crooner Beres Hammond team up on #1 reggae single "Fight This Feeling," while Queen Ifrica lets loose on "Let's Get Silly" and Etana and Busy Signal chat about "Love, Love, Love."
As a bonus, Reggae Gold 2013 unveils a second installment of the genre's essential hits including Yellowman's most sampled song "Zungguzungguzungguzeng," Tanto Metro and Devonte's Top 100 Billboard hit "Everyone Falls In Love" and Shabba Ranks' "Twice My Age."