Sizzla European Tour / Jay Z Samples "Solid As A Rock" on His New Album – Sizzla's 'The Messiah' In Stores Now
Sizzla, one of reggae's most prolific artists, has announced four European tour dates in support of his 70th album The Messiah, released in May on Kalonji Music/VP Records. He kicks off this Saturday, July 27th at the Garance Reggae Festival in France and will make stops at the Salento Summer Festival in Lecce, Italy and the Cabaret Sauvage in Paris, France before wrapping on Tuesday, July 30 at Paradiso in Amsterdam, Holland.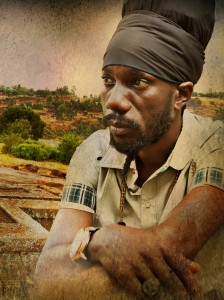 Since his emergence in 1995, the enigmatic vocalist has undeniably put his stamp on the genre regardless of the current style or trend. Even musical icons like Jay Z have taken notice. On his latest album Magna Carta Holy Grail, the rap mogul samples Sizzla's timeless classic "Solid As A Rock" on his new song "Crown." Before Jay Z, hip hop artists used the same Sizzla tune to proclaim their throne status, including 50 Cent on "You Will Never Take My Crown" and Ja Rule on "The Crown." It is evident that Sizzla remains the reigning king of roots on his latest effort The Messiah, which peaked at #1 on the South Florida Reggae Chart and New York Reggae Chart. He showcases his musical depth, passion and precision in partnership with Bread Back productions.
Mostly written and executive produced by Sizzla himself, Kalonji's full scope of talents are displayed on The Messiah. With a fresh perspective in 2013, the man on a musical mission inspires positive change worldwide on this 15-track collection. His social commentary on songs like "Chant Dem Down," "No Wicked Man" and "Psalms 121" reveal his daring bravado and righteous lyrics, while his melodic anthem "Good Love" unveils his softer side. He is scheduled to shoot a music video for "Good Love" in Jamaica with director Jay Will on August 10th.
In addition to music, Sizzla, who was recently named the President of the Ancient Nyabinghi Council, has been organizing, mobilizing, and working to promote Rastafari, unity, upliftment and positivity in Jamaican communities and worldwide. Through his Sizzla Youth Foundation, he has a number of programs and projects that aim to develop youth training and leadership skills. He is building a library, community center and a Sizzla Youth Foundation Museum in his native August Town, a community within Kingston, Jamaica.