Ras Michael & The Sons of Negus "None A Jah Jah Children" Set For Release Friday January 26
Ras Michael & The Sons of Negus' "None a Jah Jah Children" will be available on VP Records/Greensleeves on January 26th. Originally released in 1975, "None A Jah Jah Children" joins two classic albums "Rastafari" and "Kibir-Am-Lak" together. Produced by Tommy Cowan in the 1970's, the two-disc 2018 release includes bonus vocal tracks and four dubs re-mastered by Kevin Metcalfe. Including title track "None a Jah Jah Children', Birds in the Treetop', 'Glory Dawn' and more the album is made sound system ready by Tommy Cowan's Talent Corporation with the heavyweight musical back-up of Peter Tosh, Earl "Chinna" Smith, Robbie Shakespeare, Robbie Lyn, Tommy McCook, Carlton "Santa" Davis and the Sons Of Negus featuring various drums such as the 1st, 2nd and 3rd funde, akete bass drum, repeater, bass funde and trap with band The Sons of Negus's traditional Nyabinghi drumming and chanting.
Honored with the Order of Distinction award for his contribution to the development of Jamaica's music, Ras Michael, once considered an outcast from mainstream Jamaican society, proved to be a top seller in his Rastafarian culture and beyond. His humble beginnings began in the community of St Mary when he graduated as a master drummer before relocating to Kingston where he began to occasionally play on sessions at the Brentford Road studio of Clement 'Coxone' Dodd as an uncredited member of Jackie Mitto and the Soul Vendors. His contribution was essential to a number of classic Studio One recordings of the period including 'Darker Shade of Black' and 'Drum Song'. He and his band The Sons of Negus soon became known as legitimate drummers that top Jamaican producers would call to add vigor to their roots tracks.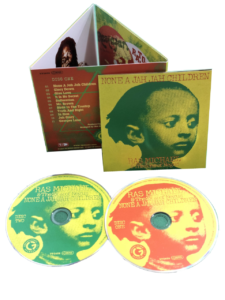 Developing his career, Ras Michael recorded for his label Zion Disc, releasing a number of seven inch singles including 'There Is A Green Hill Far Away', 'Ethiopian National Anthem', 'Rum Aggressor Run. He was also the first member of the Rastafari movement to have a reggae radio program in Jamaica titled The Lion of Judah Time program which first aired in 1967. He later sponsored the radio show 'Songs Of Negus Churchical Programme'. In 1974 Ras Michael and The Sons of Negus had their career in full swing with a second album under his belt. 'Rastafari' was a big seller and garnered two hit 7 inch singles. Keeping the momentum, they released their third album 'Kibir Am Lak' in 1977 garnishing high sales and a number one single with "A New Name Jah Got".
Known for effortlessly and successfully bridging the gap between 'uptown' and 'downtown', Ras Michael and The Sons of Negus have uncompromisingly delivered their take on Jamaican music to their native island and the rest of the world.
"This album is the perfect combination of two iconic Ras Michael & The Sons of Negus's albums," said Christopher Chin, CEO of VP Records. "They have led a formidable career and impact on Jamaican music and this album set does a great job at showcasing that."