TEAM JAMAICA BICKLE ANNOUNCES ROMAIN VIRGO AS AMBASSADOR FOR 2018-2019 SEASON
Following a debut number one placement on the Billboard Reggae Chart for 'LoveSick', VP Records is proud to announce that reggae singer Romain Virgo will be honored with a citation by Congresswoman Yvette Clarke in recognition of his contribution/ proceeds from his single "Still" to assist Jamaican and Caribbean athletes who are hosted by Team Jamaica Bickle. Additionally, he has been named the official Ambassador for Team Jamaica Bickle 2018.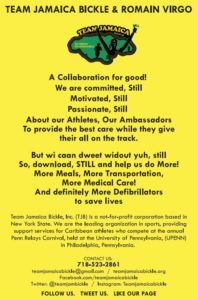 The announcement was made at Sandz Bar & Grille located in Queens, New York on Thursday, April 12, where Team Jamaica Bickle also announced the organization's activities leading into the Penn Relays which forms a part of its community outreach and fundraising efforts. Master of ceremonies for the evening Robert DeSouza welcomed all to the event. A special welcome was extended to the Consul General of Jamaica to New York, Ms. Trudy Deans and Consul General of Trinidad and Tobago to New York, Ms. Kiva Clark.
The official launch of Romain Virgo as ambassador of the organization for 2018-2019 was the highlight of the evening and was presented by VP Records' Vice President of Marketing, Aaron Talbert. Along with part-proceeds from the download of the song 'Still' from the album 'Lovesick' to Team Jamaica Bickle, he will make an appearance and perform at this year's Penn Relays, at the University of Pennsylvania, April 28th.
"At only $1.29 per download this is an opportunity for many people to help with the efforts of TJB. Let's make 'Still,' the most downloaded reggae song ever in one week so that we can make a significant contribution on the behalf of VP Records, Romain and the fans" said Richard Lue, Director of Business development at VP Records
Team Jamaica Bickle, Inc. (TJB) is a not-for-profit corporation based in New York State. The organization was formed in 1994 and was later designated a 501(c)(3) organization. TJB was founded by the current CEO Irwine G. Clare Snr. The affiliated TJB-Philadelphia Organizing Committee was simultaneously formed. TJB's mission is embodied in the motto, 'Our Athletes, Our Ambassadors'.
Team Jamaica Bickle, Inc. has supported athletes and athletic programs for the past 24 years. Currently, TJB services extend to a delegation of athletes, coaches and volunteers from Jamaica, other Caribbean countries (which includes Trinidad and Tobago and St. Vincent & The Grenadines, Guyana), as well as from the USA.