Spiritual Releases Video for 'Stand up to Rasta'
New York, NY– VP Records artist Spiritual has released the video for 'Stand Up to Rasta', the first single off his debut album "Awakening". Shot in various parts of New York City (Queens, Brooklyn), the video sends the message of staying true to one's self despite pressures to mold into the corporate world. Directed by A1 Vision, the video has no shortage of beautiful shots of New York City's landscape and Spiritual's energetic and bold energy.
Symbolism is displayed throughout the video, as what looks to be a simple game of chess, represents much more. His opponent is a standard business man who seemingly plays by "the rules", while Spiritual carefully plans his moves with thoughtful introspection to show the strategic way in which he navigates day to day within "the system."
The video being filmed in New York, the city of dreams, illustrated that even in a city where everyone wants to be successful it is essential to still stand up for your beliefs. After outwitting his opponent, they shake hands, emphasizing Spiritual's humble nature.
Spiritual's effortless style of reggae is reminiscent to the Bob Marley era as his songs deliver messages that are poignant and deep. His album "Awakening" produced by Oufah Music (Shabba Ranks, Omi), blends his desire to help those around him with his infinite passion for music.
"I'm really excited about this new video, it was a very interesting and educating experience and I'm very happy to not only write and sing for my people, but to be able to give them a true and honest video performance," said Spiritual abut shooting 'Stand up to Rasta.'
Spiritual recently held his first performance in New York City at a VP Records New Artist Showcase on May 18th. As the headliner of the show, he wowed the audience with a four-song set including 'Stand up to Rasta' and 'African Glory.'
The video premiered today on http://reggaenation.com/. The video can be viewed here.
Stream or Download this song: https://lnk.to/Awakening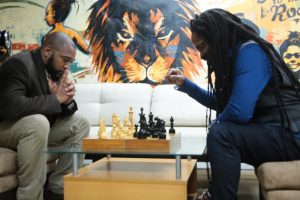 Follow Spiritual:
Instagram: https://www.instagram.com/spiritualreggae
Facebook: https://www.facebook.com/spiritualreggae
Twitter: https://twitter.com/SpiritualReggae
For media inquiries, please contact: jennifer.valentin@vprecords.com