NY 7th Annual Staging of the Grace Jamaican Jerk Festival a Success
New York's 7th Annual Staging of the Grace Jamaican Jerk Festival was a Success with Superb Performances, Great Food and Activities.
Jamaica's Lisa Hanna Wins Celebrity Quick Fire Challenge Trophy against Two-Time Champ,
NY Mayor Bill de Blasio
QUEENS, NY— The 7th annual Grace Jamaican Jerk Festival welcomed over 15,000 guests this past Sunday July 23rd. Patrons from all around New York, the tri-state area and beyond came out to Roy Wilkins Park in Queens, NY to enjoy a full day of the "jerk experience" from a variety of vendors, a delightful culinary pavilion, cultural and mainstage performances, a fun Kidz Zone area and an array of giveaways from a variety of sponsors. Adding to the good vibes of the day, the rain held up despite a predicted storm, making the weather as pleasant as the crowd.
The day kicked off with various activations at the Culinary Pavilion. Hosted by Celebrity Chef Irie Spice of the critically acclaimed television series, "Taste the Islands with Chef Irie" and Food Network's 'Cutthroat Kitchen' and New York's BB King's and Highland Ballroom's Executive Chef Wenford Patrick Simpson, the Cook-Off tent was on fire. The very impressive line-up of talented Chefs participated in friendly banter amongst themselves and the engaged spectators.
Chef Andre Fowles of Miss Lily's, a two-time Food Network Chopped champion kicked things off with a cooking demo of chicken tostadas, which was later devoured by the attentive audience.
Lisa Hanna, Jamaican Minister of Culture 2012-2016 and Miss World 1993, competed against New York City Mayor, Bill de Blasio in a quick-fire challenge with mystery ingredients that included pork chops, breadfruit, granola bars and spinach. While de Blasio named his dish "Ocho Rios Explosion", Hanna proudly won the challenge with her dish "Goodie" and later shared on the Main Stage that she "did not come from Jamaica to be beat." She did her parish of St. Ann proud.
Chef Shorne Benjamin won the Celebrity Chef Throw Down against Chef Troy Levy of B.B King's and The Food Network hit show Cooks vs Cons. Shorne has worked with renowned Master Chef Jean Georges at the popular restaurants ABC Kitchen, Maloney & Porcelli and contemporary restaurant Falai in NYC. Thanks to his jerk liver on a bed of toasted cassava chips, he can now add Grace Jamaican Jerk Festival Celebrity Chef Throw Down Winner to his resume!
Dish Call, a friendly vendor competition allowed local businesses to flaunt their unique dishes. Mr. C's Jerk Spot took the prize, Damion Catering came in second place and T&G Flavors took third place.
While many patrons were captivated in the Culinary Pavilion, others roamed the Food Court and feasted on tasty delights such as jerk corn, jerk ice cream, fish, chicken, pork and cooled the fiery flavors with fresh coconut water, frozen lemonade and Grace Tropical Rhythms. Long lines were witnessed at Boston Jerk, Yardie's Restaurant, Mr. C's Jerk to name a few, as patrons patiently waited to get served.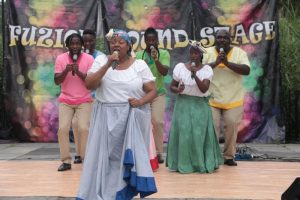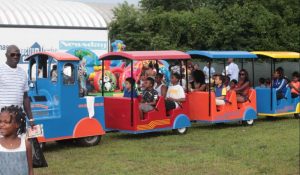 Others were engrossed by the performances at the Cultural Fuzion Sound stage. Hosted by Jamaican Folklorist Dr. Sue, patrons experienced unique performances by VPAL artist Yoncia, Queens-based performing arts dance company Kinetic Afrique, Comedian and Storyteller Blakka Ellis, from Bello and Blakka fame, Braata Folk Singers, artists The Lion Palm Twinnz and more.
Thousands camped out over at the mainstage, where K'reema, King Yellowman's daughter opened with a versatile performance displaying great stage presence. Hood Celebrity followed her with an energetic and engaging set. The crowd couldn't get enough of current reggae sensation Droop Lion, who wowed guests with his seasoned vocals, making him a hit with media in attendance.
Host Ragashanti showcased an unfiltered yet family friendly taste of his brand, while soca wonder woman, Alison Hinds delivered a set of all her classic hits such as 'Roll it gal', giving the park life by having everyone dancing. Coming off the heels of a successful year with his breakout single 'Bruk off yuh back' which was remixed with R&B hitmaker Chris Brown, Konshens followed Alison with a clean performance that the audience, particularly the ladies loved. Reggae legend Barrington Levy rocked the stage performing crowd favorites and surprised everyone by introducing Spragga Benz for a cameo appearance. Closing the show, Morgan Heritage epitomized a royal reggae family with a stellar performance. In between mainstage sets were performances by Blakka Ellis, Platinum Kids and Blacka di Dancer, and the crowd loved every minute of it.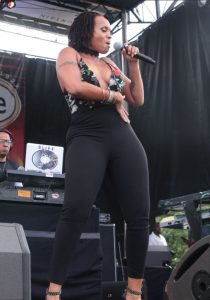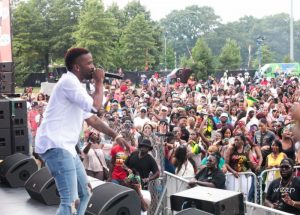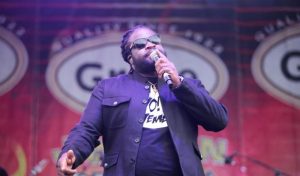 Other features of the festival included the Kidz Zone with rides and games that the young ones enjoyed, and a VP Records Reggae & Soca Gold Booth which offered Reggae Gold branded personalized gifs at the  Bosco camera stand. Other sponsors such as VMBS, Fly Jamaica and the Jamaica Tourist Board offered trips and gift baskets to lucky winners.
"This was one of the best years of the Grace Jamaican Jerk Festival in New York. People of all ethnicities came out for the full experience and truly enjoyed themselves," said Eddy Edwards, CEO of Jerk Festival, LLC. "We thank everyone who came together to make this happen for the 7th year in a row and we look forward to an even bigger event next year," Edwards concluded.
The 7th Annual Grace Jamaican Jerk Festival is presented by Jamaican Jerk Festival NY, LLC, in association with VP Records.  Sponsors are Grace Foods, Jamaican Tourist Board, Tower Isle Patties and VP Records.