Zig Boi Music Roars Loud with Hush Riddim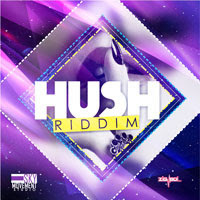 Trinidadian hit studio Zig Boi Music roars loud with its new soca compilation Hush Riddim, available worldwide from all major digital retailers on December 4, 2015, from FOX FUSE. Captained by Shawn "Zig Boi" Stewart, Zig Boi Music joins forces with Sky Movement Studio on the production, which propels both studios into the 2016 soca season. The release also cops a prized feature on the iTunes U.S. Reggae New Music chart, during its week of release.
Soca queen Alison Hinds headlines the groovy, four-song compilation with "Alibi (Mama Oie)," alongside College Boy Jesse with "Night & Day" and Nikisha Reyes with "We Jamming." The tracks are already burning up the charts and airwaves across the Caribbean, and now makes their way globally.
TRACK LIST
1. Alison Hinds – Alibi (Mama Oie)
2. College Boy Jesse – Night & Day
3. Nikisha Reyes – We Jamming
4. Sky Movement Studio & Zig Boi Music – Hush Riddim (Instrumental)