New Music (7.28) – Third World – Damian Marley Produced Single "Eyes Are Up On You" 
REGGAE AMBASSADORS THIRD WORLD RELEASE
NEW SINGLE "EYES ARE UP ON YOU" ON JULY 28
EXECUTIVE PRODUCED BY DAMIAN MARLEY
New Studio Album To Follow This Year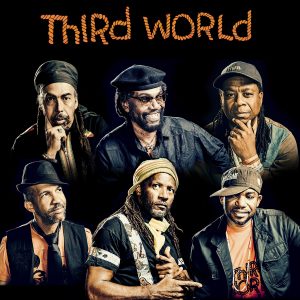 Celebrating over 40 years in music, one of the most pivotal reggae bands of all time Third World will drop their new single "Eyes Are Up On You" (out July 28, 2017) off their upcoming full-length album. The song and album are both produced by Damian Marley and will be released on Ghetto Youths International.
Third World's bassist Richard Daley explains why this musical process comes full circle. "I had the honor of working with Bob Marley back in the 70s doing some recording in London and how remicinensent it is as I sit in the studio working with Damian Marley. It is the same feeling and vibe, as we record and produce songs like "Eyes Are Up On You" and others. It is a great musical moment."
Damian Marley adds to the excitement and says "I'm proud to be working with my uncles!"
The song, which will be accompanied with a lyric music video to follow. is a reminder that actions speak louder than words. "Eyes are up on you, careful what you do, someone is watching you" states the melodic chorus. The single artwork, inspired by Caribbean-influenced street art, is created by Oakland-based artist Ras Terms, a key figure in Miami's 80s & 90s graffiti scene who is of Puerto Rican and Colombian desent.
The band is currently on the road throughout the United States and will perform the new single live as well as their repertoire of hits. See dates below and on socials.
Third World
With 10 Grammy nominations, sold-out tours worldwide, a loyal fan base and a catalogue of Top 40 Billboard charted smash hits (including "Now That We Found Love," "96 Degrees in the Shade," Third World has been one of (if not the) most consistently successful reggae bands. Third World's reggae fusion style mixes R&B, funk, pop, rock, dancehall and hip-hop into the genre, making them one of Jamaica's most popular crossover acts among international audiences. The band has toured and worked with the late great Bob Marley (including opening for Marley's first world tour in 1978), Stevie Wonder (who produced 2 of their albums in the 80's released with CBS), Santana and Jackson 5 (opening for their first concert in Jamaica). They have also shared the stage with the likes of Bono of U2, Sting, The Police, Whitney Houston, Wyclef Jean, Lauryn Hill, Jimmy Buffet, Eric Clapton and Marc Anthony and landed national TV performances on the Tonight Show with Jay Leno, Late Night with David Letterman, Arsenio Hall Show and many more.
FB |  www.Facebook.com/ThirdWorldBand
Twitter | www.twitter.com/ThirdWorldBand
IG | www.instagram.com/ThirdWorldBand