New Album (May 27, Dub Rockers) – Raging Fyah – Everlasting
A NEW GENERATION OF ROOTS, ROCK & REGGAE, RAGING FYAH RELEASES NEW STUDIO ALBUM EVERLASTING ON MAY 27 ON DUB ROCKERS Recently Wrapped First U.S. Tour with Stick Figure and performing at Cali Roots Festival on May 29.
"…most promising acts…their revolutionary spirit evoking the late Peter Tosh or Steel Pulse circa the late 1970s" – Billboard
On the heels of their first national U.S. tour with Stick Figure and Fortunate Youth, one of Jamaica's most promising young acts Raging Fyah is gearing up for their debut album for Dub Rockers, entitled Everlasting. Following their previous self-released albums "Judgement Day" (2011) and "Destiny" (2014), Everlasting will be available for worldwide release on May 27, 2016. The five-piece Kingston collective – consisting of Kumar Bent (lead singer), Courtland White (guitarist) Anthony Watson (drummer), Demar Gayle (keyboardist) and Delroy "Pele" Hamilton (bassist) – carries the tradition of the island's enduring roots rock reggae spirit with an expansive vision and fresh contemporary flare.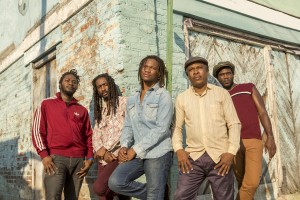 Recorded live at Kingston's legendary Tuff Gong Studios, Everlasting is produced by Llamar "Riff Raff" Brown (whose credits include Stephen and Damian Marley, Richie Spice, T.O.K. and 2016 Grammy Award winners Morgan Heritage) and features select guest artists. Rising roots singjay Jesse Royal joins the band in criticizing greedy, uncaring leaders on "Humble." Jamaican dancehall star Busy Signal is featured on two irresistible tracks including the pop-flavored "Would You Love Me" and the lilting "Live Your Life" also featuring the Compton, California raised reggae star J Boog.
Inspired by the likes of The Wailers, Third World, Steel Pulse and Aswad, Raging Fyah tackles similar topics of socio-economics and politics with an underlying message of hope and inspiration fueled by passion and purpose. From the hypnotic dub title track to the melodious crusade for "Justice" and lush harmonies and gentle soulfulness of the album's first single "Ready For Love," Raging Fyah's varied experiences and broadening perspectives in recent years contribute to the sonic sophistication that characterizes Everlasting.
The band writes all their songs together, many conveying personal meaning while simultaneously addressing wider issues. "Musically, we kept our roots but went way beyond them because there is not just one shape to fyah, it takes on different forms," says Demar. "Wondering," penned in Haiti (the world's the first independent Black nation) asks how did we get here, while "Get Up" motivates the progress of Africans throughout the Diaspora despite historical atrocities of slavery. The purity of Kumar's emotionally wrenching vocals shine on throughout the collection. His supple expressive tone persuasively delivers on Everlasting's array of personas, including the playful suitor on the "Dash Wata", the Jamaican roots revolutionary on "Raggamuffin" and the enlightened soldier in Jah Army on "Getting Dread." Each mood is ideally complemented by the band's finely honed, faultlessly taut grooves.
Most of Raging Fyah's members met at Edna Manley College of Visual & Performing Arts in Kingston before officially forming in 2006. The group has already made a name for themselves in their native country, playing the biggest shows (Reggae Sumfest, Rebel Salute, Jamaica Jazz and Blues Festival and their own Wickie Wackie Festival). From tearing up stages in South America to headlining major European reggae festivals (Summerjam, Rototom Sunsplash and Garance), they also have a devoted following internationally – even performing in such far-flung locales as Siberia, Russia and the South Pacific island of New Caledonia.
Raging Fyah's infectious vibes and soul-filled sound continue to make waves in the latest reggae renaissance. The buzzworthy band was recently covered in VOGUE, raving how the "whole crowd was drawn to its feet in a visible wave, like fallen dominoes getting up again" after their Rebel Salute 2015 performance in Jamaica. They also made both OkayPlayer LargeUp's and Marley Natural's 2016 Artists To Watch list, and their upcoming release has been selected by The Pier as one of 2016's Most Anticipated Albums. After their recent cross-country U.S. tour supporting Stick Figure, they are steadily capturing the hearts of North American listeners and will head back to the U.S. on May 29 to perform at the annual California Roots Music and Arts Festival. See full tour schedule below.