Alborosie NYC Album Listening Event | New Album (May 20) Freedom & Fyah
FROM SICILY TO JAMAICA, REGGAE SINGER, PRODUCER & MULTI-INSTRUMENTALIST ALBOROSIE PRESENTS HIS NEW STUDIO ALBUM FREEDOM & FYAH Out May 20 on Greensleeves Records.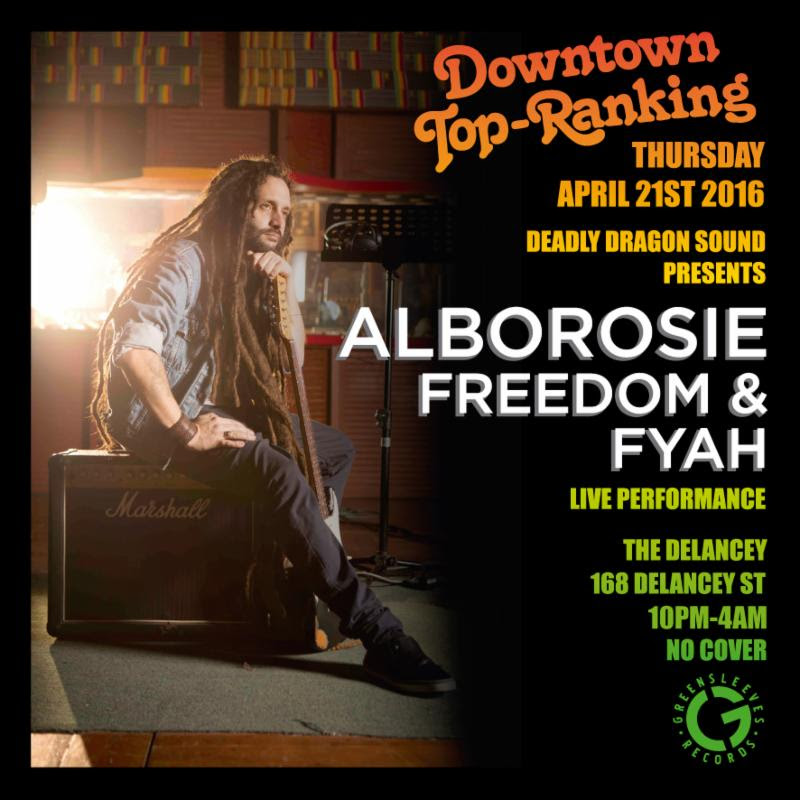 Reggae music is no longer confined by race, skin color or nationality. It always did have a global message, but the culture that it represents has now extended way beyond Jamaica. Alborosie's success is symbolic of this new spirit sweeping the reggae world. The Sicilian born artist, who has spent over a decade living in Jamaica, delivers revolutionary songs with deep, heavy roots rhythms that have become his trademark.
He is the complete package – a festival headliner who's written, played and produced a succession of bestselling albums since his 2008 debut Soul Pirate, and now culminates in this latest set Freedom & Fyah (May 20, Greensleeves).
Alborosie explains that the new album has "a very strong dub influence, and with signs of dubstep and electronic music in some of the tracks." Lyrically, he covers similar topics including love, revenge, politics and social commentary. Freedom & Fyah delivers un-compromising Rasta lyrics, on blazing roots tunes "Can't Cool," "Judgement" and "Cry," which derides the gunmen who've turned Kingston's inner city communities into killing fields.
The song "Poser" (video) is one of the two recent hits included on the album and a clear example of staying true to yourself and standing up for what you believe in. The other hit "Rocky Road," expresses fundamental truths like the cycle of life and death and is also accompanied by a video.
Alborosie has major guest features on the album including Jamaica reggae star Protoje on "Strolling" – explaining the true Rasta cadence -and Ky-Mani Marley (son of Bob) on the love song "Life To Me." He also introduces rising artists like Sandy Smith on "Carry On" and Sugus (former back up vocalist for Dennis Brown and Gregory Isaacs) on "Zion Youth" and the EDM-influenced weed anthem "Fly 420."
ALBOROSIE
Alborosie, real name Alberto D' Ascola, was born in the Sicilian town of Marsala, Italy. After relocating to Milan in his teens, he played in a variety of bands before joining Reggae National Tickets, who regularly toured Europe during the mid-to-late nineties. One day the Tickets were invited to perform in Jamaica – an event that inspired Alborosie to quit the band and change his life around. Soon, he was living in Jamaica and working as an engineer at Gee Jam studios in Portland, where he worked with many leading foreign and Jamaican artists. As a keen student of Jamaican music, he is fascinated by analogue recording techniques and plays many different instruments, (including guitar, bass and keyboards).
Today, his Shengen Studio in the foothills of Kingston, Jamaica contains equipment once owned by the likes of King Tubby and Coxsone Dodd. There, he immerses himself in reggae's past and creates the true essence of his revolutionary sound. He represents an exciting new era for reggae. He has released a number of critically acclaimed albums following his debut Soul Pirate, including Escape To Babylon (2009), 2 Times Revolution (2011), Sound The System and Dub The System (2013) as well as Alborosie Meets King Jammy -Dub Of Thrones (2015). In 2011, Alborosie also won the UK's MOBO Award for Best Reggae Act.
Freedom & Fyah Track Listing:
Alborosie ft. Rev. Rohan Treleven – The Prophecy
Alborosie – Can't Cool
Alborosie ft. Sugus – Fly 420
Alborosie – Cry
Alborosie ft. Protoje – Strolling
Alborosie – Rocky Road
Alborosie – Poser
Alborosie – Judgement
Alborosie ft. Ky-mani Marley – Life To Me
Alborosie – Rich
Alborosie ft. Sandy Smith – Carry On
Alborosie (Roots Radics DJ Appearance By Pupa Avril)- Everything
Alborosie ft. Sugus – Zion Youth