New 2CD/DVD Anthology from Mighty Diamonds + European Tour Dates Announced, U.S. To Follow
On August 27, 2013, 17 North Parade unlocked its vaults once again to unveil The Mighty Diamonds' 2CD/DVD Reggae Anthology Pass The Knowledge.
In support of the album, the band will tour Europe in October and then head to the United States.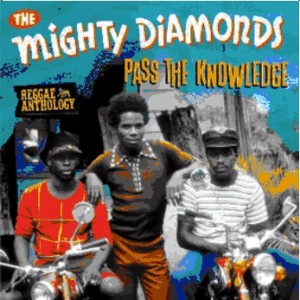 The remarkable 39-track selection from the legendary Jamaican harmony trio features their most essential hits (some of which are available on CD for the very first time) plus four previously unreleased dubplate exclusives. As an added bonus, the collection includes a 25-minute DVD of The Mighty Diamonds lighting up the crowd at the annual Reggae Sun splash concert in 1989.
Disc One begins with their early recordings like the Bunny Lee produced "Jah Jah Bless the Dreadlocks" and classic songs ("Shame and Pride," "Have Mercy," "Africa," "Right Time" and "I Need A Roof") from their well-known 1976 debut album Right Time, produced by Joseph Hoo Kim and released on Virgin Records. Disc Two delves into more timeless selections during the height of their career, including "Bodyguard" from the 1979 iconic release Deeper Roots as well as the international smash "Pass the Kutchie" off their 1982 Gussie Clarke produced album Changes.
As one of the major cornerstones of the roots reggae movement, The Mighty Diamonds have maintained a consistent message of love and unity. Comprised of lead vocalist Donald "Tabby" Shaw and harmony vocalists Fitzroy "Bunny" Simpson and Lloyd "Judge" Ferguson, the trio is widely-known for their smooth harmonies and choreographed stage shows inspired by 1960s Motown vocal groups like The Temptations, The Stylistics, The Impressions and The Delfonics and as well as Jamaican rocksteady artists like John Holt and Ken Boothe. With over 40 albums under their belt, the long-time friends formed in 1969 in the Trenchtown area of Kingston and continue to record and tour together today.