New Album (Sept 30) – Alborosie – Sound The System – FEB 2014 U.S. Tour
Alborosie may not be Jamaican by birth, yet he promotes reggae music in its truest sense. With dreadlocks almost touching the floor, the Sicilian-born singer – one turned Jamaican national – is a proud Rastafarian armed with a rebel philosophy. On Monday, September 30, 2013, he continues his musical mission with his self-produced, landmark album and vinyl LP Sound The System on Greensleeves Records. Alborosie also has a U.S tour planned for February 2014 in support of the North American release. Tour dates will be announced later this fall.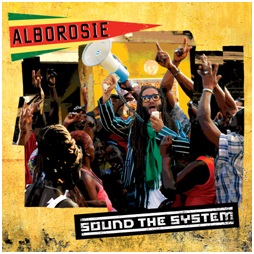 Sound The System, which was released in Europe in July, boasts the perfect balance of live instrumentation and analogue recording techniques and is filled with Alborosie's signature thought-provoking lyrics, satisfying vocals and classic contemporary sound. The modern-day Renaissance man demonstrates a mastery of traditional reggae, while pointing the way forward for himself and the genre.
Alborosie describes Sound The System as "a new chapter" and "revolutionary in terms of the message." "You're going to hear some good music and learn to live good," he adds.
The re-emergence of "live" reggae and timeless dancehall music owes much to the trail he blazed on earlier albums such as Escape To Babylon and 2 Times Revolution – the difference being that he has now raised the bar even higher. Alborosie not only lives and breathes the music, he's assimilated it to the point where he's now indistinguishable from the pioneers who created it – possessing the same spirit and sharing the same goals. For example, "Positiveness" and "Warrior" are the kind of songs that icons like Bob Marley or Toots Hibbert would write, since both are guaranteed to have audiences on their feet, singing along and feeling togetherness. It takes a special talent to pen songs that are catchy, all-inclusive and convey a righteous message. Alborosie clearly has that gift, which may explain why Bob Marley's son Ky-Mani steps up to the mic for a wonderful reworking of "Zion Train," or legendary Jamaican vocal group The Abyssinians put in a rare guest appearance on "Give Thanks" – a track they decorate with harmonies sang in Amharic, the sacred language of Ethiopia. He also collaborated with Italian singer Nina Zilli on "Goodbye," which brings vivacity to scintillating ska beats.
No matter whether its roots or dancehall, he's equally adept as a singer, singjay or MC and can battle it out with all comers. He will drive a crowd into a frenzy with songs like "Who Run The Dance" in pitch-perfect raggamuffin talk, while "Shut U Mouth" is a burial tune in true sound-system tradition and "Rock The Dancehall" is a clarion call – one that's already an anthem in reggae circles.
As a keen student of Jamaican music, he's fascinated by analogue recording techniques and plays many different instruments, (including guitar, bass and keyboards) on Sound The System. He's adept at using Pro-Tools and the rest. His Shengen Studio is better stocked than any museum and contains equipment once owned by the likes of King Tubby and Coxsone Dodd. It's there at his home in the foothills of Kingston where he immerses himself in reggae's past.
He's traveled far from his origins in every sense, although his Sicilian heritage peeks through on "U Got To Be Mine," which has a Mediterranean feel. This blend of compelling yet seemingly disparate influences makes his palette much broader than most reggae artists. He takes it to another level on "Memories" featuring Kemar "Flava" McGregor, which is a musing on life and death set to a shuffling rhythm wrapped in harp strings. This daring nature and willingness to take risks is why his music is so unique and continues to evolve.
Alborosie, real name Alberto D' Ascola, was born in the Sicilian town of Marsala. After relocating to Milan during his teens he played in a variety of bands before joining Reggae National Tickets, who regularly toured Europe during the mid-to-late nineties. One day the Tickets were invited to perform in Jamaica – an event that inspired Alborosie to quit the band and change his life around. Soon, he was living in Jamaica and working as an engineer at Gee Jam studios in Portland, where he worked with many leading foreign and Jamaican artists. Twelve years later and he's in the vanguard of an exciting new era for reggae, and with a quartet of critically-acclaimed albums to his name.