Shaggy Set to Release 12th Album 'Out of Many One Music' September 24th
New York, New York (September 6, 2013) Ranch Ent. is proud to announce the release of Shaggy's 12th album titled "Out of Many, One Music", produced by legendary Jamaican duo Sly & Robbie and Sting International Co Produced by Lenky Marsden, available digitally on September 24th 2013. As one of music's highly acclaimed artist with two multi-platinum albums, eight number 1 hits, twelve top ten singles worldwide, a diamond selling album and a Grammy for best reggae album, Shaggy is at it again.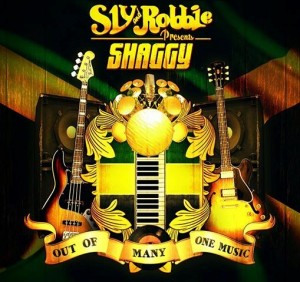 "Out of Many, One Music", puts Shaggy in a class of his own and shows the authenticity and creativity Shaggy is so well known for. The vibe of the album was inspired by deep grooves of pioneering roots reggae band Black Uhuru, to which Shaggy added his own flavor.
"Those hard Black Uhuru drum and bass tracks with my pop style of writing and melodies added a nice twist. I feel this album is really something solid and authentic" says Shaggy.
The lead single "Fight this Feeling" is a duet with lovers rock icon, Beres Hammond, set to a timeless Sly & Robbie rhythm, which has changed the dancehall scene this summer, forcing DJs to play lovers rock during their set. "Fight this Feeling" is a modern day love song with excellent production from Sly & Robbie, Sting International and Lenky.
The second single released off "Out of Many, One Music" titled 'You Girl' features R&B pop star Ne-Yo and is currently number 1 on the Reggae iTunes charts. 'You Girl' is a body roll inducing love song that finds the fellas serenading a lucky young lady about how wonderful she is.
The remaining tracks on this 13 track album are all new and have not been released. Shaggy collaborated with many of the industries legends and upcoming reggae and dancehall sensations. This album gives you the opportunity to enjoy good reggae, great musical production and take a journey with Shaggy and some of his friends as they pay tribute to the culture and one of the many gifts given to the world from the island of Jamaica, Reggae.
"Out of Many, One Music" is not a new Shaggy album but a collaboration as he explains, between him and legendary Jamaican rhythm duo Sly & Robbie. "I've been criticized for years for not being authentic because of my pop success…People say I'm not this…I'm not that…Now I'm doing a Reggae album with the masters and people are saying its a game changer. The first 2 singles have already proven that to some exstent! You be the judge on September 24th! says Shaggy.