AWARD WINNING SINGER RICHIE STEPHENS DOING IT BIG IN EUROPE
Award winning reggae singer Richie Stephens and Germany singjay Gentleman are doing it big in Europe, tearing up the first leg of their 2013 European tour. With a plethora of hit songs, big stages, flashy lights, and strong performances, the two reggae stars are putting on one heezy of a show that has attracted thousands of reggae lovers in Koln, Germany; Voss, Norway and Saarbrucken Germany. The tour includes the popular three day Summerjam Reggae Festival in Cologne, Germany where Richie and Gentleman shared stage with Romain Virgo, Snoop Lion, Tarrus Riley, Matisyahu, Morgan Heritage, Alborosie, Busy Signal, Popcaan, Chronix, Major Lazer, Protoje and others. Other upcoming dates include stops in Pforzheim, Germany; Frauenfeld, Switzerland; Reta, Spain; Carhaix, France; Venice, Italy and Brandenburg, Germany.
***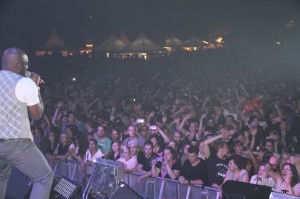 Richie performing for thousands of music fans on his successful European tour.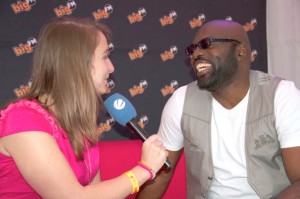 Richie Stephens being interviewed by Big FM on his European tour.
***
"I am having the time of my life" Richie said, moments after an explosive performance at Summer Jam.
"I feel honored to have had this opportunity to perform each night with my friend Gentleman who is a mega star here in Europe. We are selling out big venues and playing gigs that a lot of reggae star do not normally get to play. I feel I am not just representing myself but I am carrying the reggae flag for the entire Jamaica and taking the message directly to the people here. The music has been great, the vibe has been magical and fans love the music" Stephens noted.
Each night the lover's rock crooner has served up a magical hybrid of cultural, lover's rock, reggae songs that has served to whip the crowd into an explosive frenzy. The current tour is in support of the European release of Stephens' new album Real Reggae Music. The lead single from the disc "Real Reggae Music" which was recorded with Daddy U Roy is doing extremely well stateside, having already topped charts in South Florida, New York and Jamaica.
"Refreshingly authentic is the phrase that comes to mind when I listen to the album" gushed Danny Browne, producer of the project and current manager for Stephens.
"When Richie set out to make this album a few months ago, he knew exactly what it would take to make this as authentic as possible. It would mean writing good lyrics and collaborating with some of reggae music's most renowned musicians, artistes and producers and this he did" Brownie said.
This fourteen-track album comprises of songs produced by veteran producers Donovan Germaine, Steelie and Clevie, Brownie and collaborations with Bunny "Striker" Lee. Tracks like "I Found Heaven" "Murdah" "Set It Off" "Jah Will Be Done" were taken from original authentic multi track tapes of tracks produced by Bunny Lee during the late sixties into the early and late seventies. Producer Danny Brownie was able to transfer these tracks to a digital format and enhance the sound quality. Some of the other tracks, which were recreations of some traditional reggae rhythms, are so authentically reproduced that it is almost impossible to tell that they have been redone. Additionally there is a cover of Bob Marley's "No Woman No Cry" which was produced by German new comers "Radiation Squad".
Real Reggae Music also features collaborations between Richie Stephens and internationally renowned reggae icons such as Daddy U Roy, Gentleman, Alborosie and Richie Campbell.
###