Music & News From Capsicum Records – Dolli ("Not That Strong" sequel to "Gangsta Girl")
Capsicum Records CEO and Director of A&R Roger Meltzer announced that Jamaican DJ artist Dolli (aka Sexii Dolli, Dolli Difference) has joined the recent spate of Jamaican talent recording non-exclusively for the Hartford-based indie with the release of her newly-mastered single, "Not That Strong."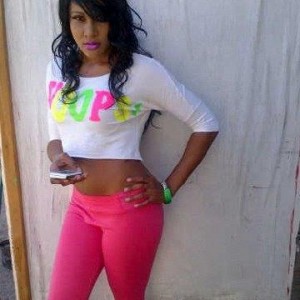 "We are so delighted to welcome Dolli to Capsicum," said Meltzer. "Her dj and singjay fusions of dancehall, reggae, r&b and hip-hop fit in perfectly with our own 'roots on the bottom, and pop on the top' Reggae-In-Fusion sound. While Jamaican radio and concert audiences already know what a great DJ and singjay artist Dolli is, now they're going to find out that this artist can really sing, too.
"It was treat working with her at Josey Wales' Frenz For Real Studio in the Garrison section of Kingston last summer and seeing what she could do with the track I built in collaboration with my Capsicum co-executive producers, Osborne 'Ifield' Joseph and Joseph Everton 'Reality' Weekes. Even before I got there I knew she was going to smoke Not That Strong, a song I co-wrote for her with her fellow Capsicum artist Sal Anthony and Weekes, in which the independent modern woman Dolli personifies in 'Gangsta Girl' can still admit her vulnerability and need for a genuine relationship — or else.
"I think people will love her sweet and tender yet assertive voice.
"The sky's the limit for this gorgeous artist, especially with her working now with internationally renowned Jamaican manager-producer Jah Snowcone."
A former model, the stunning 5′-11″ St. Mary Jamaica native has graced the stages of Sting 2009 and St Mary Mi Come From 2010, and has been making a big impact in the music industry as a rising artist with her hit single, "Gangsta Girl", which reached #1 on the UK Dancehall Empire Promo Chart.
The song also hit #59 on the 2012 TropicalFete International Caribbean Countdown
Dolli was the feature story in the Entertainment section of the Jamaica Observer and then interviewed by Anthony Miller on TVJ's Entertainment Report. Along with scores of radio interviews in Jamaica, here in the U.S. she's done phone interviews with Station General Manager/Caribbean Culture DJ Maurice Lindsay on WTCC 90.7-FM in Springfield, MA and with DJ Donovan "Madman" Longmore on WESU 88.1-FM in Middletown, CT, and countless live interviews on Jamaican radio and tv stations
Always interested in music, Dolli began singing at a young age, starting her music journey with her first single entitled "Bounce Around" released in 2007. Dolli has worked with producer Steve Locke from Truck Back Records, and in 2010 she released a track titled "Tempted To Touch".
Everyday life and experiences are the inspiration and motivation for her songs. Dolli listens to a lot of artists, but the artist that inspires her the most is Jah Cure. She notes, "the soul in his voice connects with the soul in my voice and it just puts me in a different place." Other artists of inspiration include: Bounty Killer, Tanya Stevens, Lady Saw and Aaliyah.
Dolli's vision of the future includes dominating the Billboard charts, collecting Grammies and touching people's lives through her music. She believes that five years from now she will be a top artist, breaking down barriers in the industry.
"She came highly recommended to me by DJ Icon at WPKN-FM in Bridgeport, CT, says Meltzer, "and after hearing how great she is live on-stage, I'm also hoping she will also be able to tour with us in 2013."