Jah9 Kicks Off U.S. Tour & Drops 9MM Vol 2: Pre-Album Groundings 
JAH9 KICKS OFF 'YEAR OF 9' (2 + 0 + 1 + 6) WORLD TOUR AND RELEASES 9MM VOL 2: PRE-ALBUM GROUNDINGS ON JAH9.COM
Reggaeville Premieres 18-Track Mix Today
A Precursor to her Eagerly-Awaited Sophomore Album 9 (VP Records/Steam Chalice Records)
Jamaican singer-songwriter and producer Jah9 starts her Year of 9 (2+0+1+6) World Tour, spanning North America, Europe and Africa. Her North American portion kicked off this Sat. July 23 at the Northwest World Reggae Fest in Portland and in Seattle on Sunday. Jul 24. The cross-continent run continues in Vancouver, Philadelphia, New York City, Rochester, Ithaca, Toronto and Denver and closes at Cali's renowned Reggae On The River festival in Humboldt County. Europe and Africa dates follow. See full tour schedule below.
Today on the road, Jah9 drops 9mm Vol. 2: Pre-Album Groundings, a thought-provoking and intentional mix of originality and inspiration to gear up for her highly-anticipated sophomore album 9,  out 9/9 on VP Records/Steam Chalice Records and available for pre-order now.
Download 9mm Vol 2: Pre-Album Groundings for free on Jah9.com:
http://www.jah9.com/jah9-9mm-vol-2
Listen/post: https://soundcloud.com/jah9online/sets/9mm-vol-two
With Jah9's lioness lyrical dexterity and soulful rich production, her authentic spirit shines on Vol. 2. Her latest offering features original, never-before-heard music including "Unafraid" (a standout track from her upcoming album addressing child molestation) and pays homage to some of Jah9's greatest influences, both spiritually and musically.
She incorporates empowering speeches from Haile Selassie I, Ra Un Nefer Amen & Drunvalo Melcheziek, encouraging her listeners not only to journey into higher levels of consciousness, but seek out information and knowledge. She also celebrates some of her most beloved musical inspirations with one-of-a-kind covers of Nina Simone's "Misunderstood" Tracy Chapman's "She's Got A Ticket," Ras Micheal's "New Name," Dennis Brown's "Blood City" and an invigorating medley of Sizzla Kalonji.
The 18-track selection features original production from Jah9 and live instrumentation from her band The Dub Treatment including Sheldon Bernard, Janoy Ellis, Omar "Jalanzo" Johnson, Aeion Hoillet, Andrew "Chako" Edwards & Fanso Craig.  The collection is mixed & dubbed by Hasani 'Snysh' Williams. This part two installment follows Jah9's 2012 9mm Vol 1: Message Music, a precursor to her debut New Name.
9mm Vol. 2: Pre-Album Groundings is an introduction of what's to come on 9 | 9 | 2 + 0 + 1 + 6 = 9. Her entirely self-produced sophomore album 9 is a combination of intellectual rigor, real world activism and lyrical musicality.  The album's first single "Humble Mi," also featured on 9mm Vol 2., is available now on iTunes.
JAH9
For those who've been waiting for Rasta consciousness to mount a resurgence in contemporary reggae, Jah9 is a figure of revelation. She first caught the attention of many with a string of singles including "Avocado," "Steamers A Bubble," "Jungle" and "Gratitude," The singer-songwriter and producer boasts a soul and jazz inflected melodicism and possesses a fiery vigor in her dynamic live shows. Jah9 is also university graduate, a multidisciplinary yoga instructor, a youth at risk counselor and a celebrated poet.
www.Jah9.com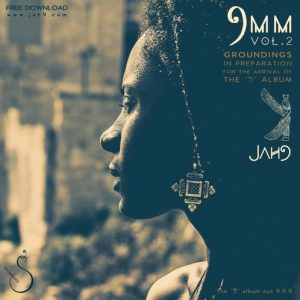 9mm Vol. 2: Pre-Album Groundings – Track Listing
1. Fire Slaughter
2. Avocado *9 Grams Per Serving
3. Marijuana (prod. by Biggy Music)
4. This is NOT a mixtape "K'nife"
5. Listen (prod by Steam Chalice Records)
6. Drunvalo Melchezidek
7. Humble Mi (prod. by Lost Ark Music / Steam Chalice Records)
8. She's got a ticket (Tracy Chapman cover)
9. Feeling Irie (prod by VP Records)
10. Feme9 "K'nife"
11. Unafraid (prod by Shamala Prod)
12. Misunderstood (Nina Simone Cover) (prod. by Steam Chalice Records)
13. Sizzla Kalonji Medley (prod. by Steam Chalice Records)
14. Bloody City (prod by VP Records)
15. H.I.M Haile Selassie I
16. New Name (Ras Micheal Cover) (prod. by Steam Chalice Records)
17. Ra Un Nefer Amen
18. Outro – 9 "K'nife"
Tour Dates:
North America
July 23, 2016  ||  Portland, Oregon ||  NorthWest World Reggae Festival ||  Website
July 24, 2016 || Seattle, Washington || Hale's Ales Palladium || Website / Purchase Tickets
July 26, 2016 || Vancouver, Canada || Fortune Sound Club || YOGA ON DUB || Website
July 27, 2016 || Vancouver, Canada || Fortune Sound Club || Website / Tickets
July 28, 2016 || Philadelphia, PA ||  One Arts Community Center w/ Akae Beka || Website
July 29, 2016 ||  Rochester, NY || Abilene Bar & Lounge || Website
July 30, 2016  ||  Toronto, Canada||  Island Soul Festival  || Website / Free
July 31, 2016 || Ithaca, NY ||  Bernie Milton Pavilion on the Commons || FREE
August 2, 2016 || Manhattan, NYC || SOB's || Website
August 3, 2016 || Denver, Colorado || Mi Yard || YOGA ON DUB
August 4, 2016 || Denver, Colorado || The Roxy Theatre || Website
August 5, 2016 || Humboldt, California || Reggae on the River || Website
Europe
August 11, 2016 || San Vera, Italy || Dromos Festival
August 12, 2016 || Wien, Austria || Afrika Tage Festival || Website
August 13, 2016 || Ostroda, Poland || Ostroda Reggae Festival || Website
August 16, 2016 || Benicassim, Spain ||  Rototom Sunspash || Website
August 17, 2016 || Brescia, Italy || Festa di Radio Onda d'Urto
August 19, 2016 || Geneva, Switzerland || Festival Plein Les Watts || Website
August 26, 2016 || Hannovre, Germany || Pavillon Kulturzentrum w/ Sara Lugo
August 27, 2016 || Anvers, Belgium || Antwerp Reggae Festival
August 28, 2016 || Northhampshire, UK || Shambala Festival || Website
September 3, 2016 || Chigwell, UK || One Love Sound Festival
Africa
September 9, 2016 || Nairobi, Kenya || The Alchemist || Website
September 16, 2016 || Diani Beach, Kenya || Website