MUNYA Shares "Hotel Delmano" Music Video via Highsnobiety
MUNYA
SHARES "HOTEL DELMANO" MUSIC VIDEO
WATCH NOW VIA HIGHSNOBIETY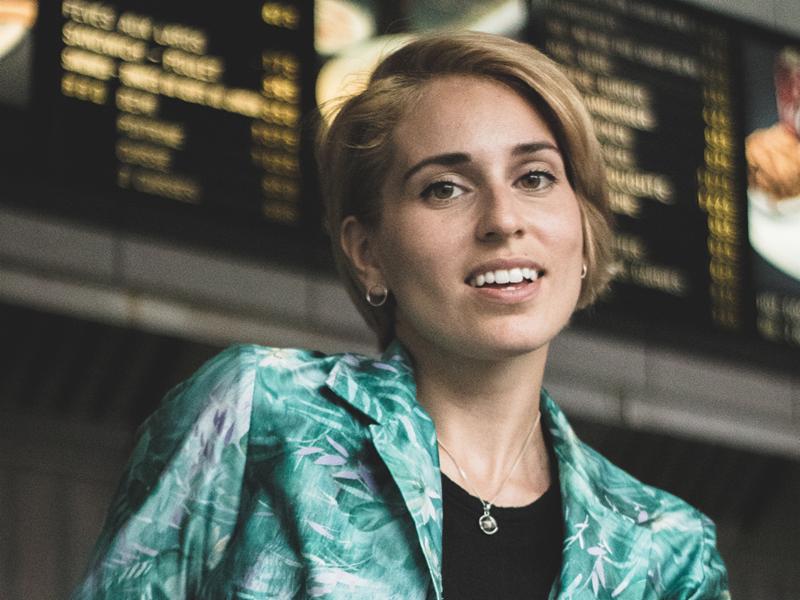 (Credit: Samuel Pearson)
"Sleek and atmospheric synth-pop that feels nostalgic and modern simultaneously—like glimpsing the future through a sepia-toned filter." – Pitchfork
"The song certainly evokes a dreamlike atmosphere, and an easy-going breeziness that characterizes the best French pop music. But 'Hotel Delmano' has a haunting edge, with hazy apparitions of a woman with blue skin leaving an impression that lasts." – Stereogum
"The lead single (and quasi title track) is 'Hotel Delmano,' a gorgeous, ethereal number with keyboards that sound like twilight (the time of day, not the vampire movie series) and give the song a magical quality…this is very good." –Brooklyn Vegan
"dreamy, gently sun-warped French indie-pop" – Gorilla vs. Bear
"Quebec based artist MUNYA aka Josie Bovin stuns with her intelligent combination of French-language melancholia and mystic dream pop." – The Line of Best Fit
"It's a wonderful song that makes you feel like your flying, brightening the atmosphere in any room." – HYPE BEAST
"If you aren't already obsessed with Quebecois singer MUNYA, you're about to be." – NYLON
French-Canadian artist MUNYA – a.k.a producer, singer, songwriter and performer Josie Boivin – released her self-produced sophomore EP Delmano earlier this month. Today she shares a lovely music video for the record's lead single, "Hotel Delmano." She explains, "The song 'Hotel Delmano' came to me in a dream. So when it was time to make the video, I wanted it to have the same feeling – an ambiguous collection of images, whose meaning is derived by the connection of the time and place. We shot this in my hometown, visiting the most 'trivial' and 'unremarkable' places that I've known my whole life but now feel like a dream." Watch the video now via Highsnobiety HERE.
Quebec's MUNYA had only written one song when she was asked to perform at Pop Montreal in September of 2017. Boivin, a classically trained pianist, opera singer, and jazz student, dreamed of making music full time, and playing at the festival made her realize that this was what she was meant to do. She quit her day job, moved in with her sister and turned their kitchen into a recording studio, where she wrote every day. These recordings would eventually become part of an EP trilogy – three projects comprised of three songs – each named for a significant place in Boivin's life.
With praise from the likes of Pitchfork, Stereogum, and NYLON, spins on KEXP, KCRW, CBC and OpenAir, as well as back-to-back placement on Spotify's New Music Friday, Delmano is out now. Named for Hotel Delmano in Williamsburg, this is the second release in Boivin's three-part EP trilogy and stunning new effort at this up-and-coming artist. Stream and purchase the album here, here and here.
For more info on MUNYA and Hotel Delmano: luminellerecs.com/artists/munya
For more information on MUNYA, please contact:
Jaclyn Ulman – jaclynu@grandstandhq.com
Katie Nelson – katien@grandstandhq.com