Montserrat Calabash Festival 2014 kicks off This Weekend!
MONTSERRAT CALABASH FESTIVAL KICKS OFF THIS WEEKEND, 13 – 20 JULY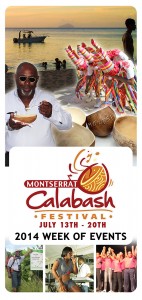 The Annual Montserrat Calabash Festival commences this Sunday 13th July 2014, under the theme, 'Embracing Your African Heritage'. The celebration in its 9th year, is named after the Calabash fruit that was traditionally used to produce eating utensils, musical instruments and decorative items. The Festival seeks to promote Montserrat through a range of events such as a Calabash Jog & Stroll, Calabash Hike, Island Boat Tour, a Grand Food Fair, a Gospel Concert, Prof. Dr. George Irish Lecture Series, and the newest addition 'Feel the Community Spirit' an experience where visitors can learn to make some of Montserrat's most traditional foods and delicacies. Throughout the week, some of the islands finest cultural cooks will share some of the skills passed down from generations, and over a 2 hour period visitors will learn how to prepare special dishes such as cassava bread, duckna (dou-ka-na), potato pudding, sugar cakes, plate tart, ginger sticks or even Montserrat's national dish, Goat water!