St. Kitts Music Festival – Among The Best
St. Kitts Music Festival – Among The Best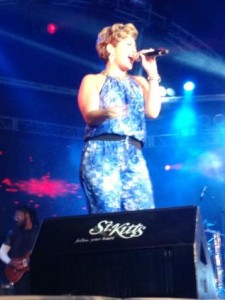 Artistes and Attendees Alike Laud the Event
Pictured: (Above) Tessanne Chin, Season 5 Winner of NBC's "The Voice" performing on Saturday night, June 28, at St. Kitts Music Festival 2014.
Basseterre, St. Kitts – The mix of musical talents and genres that was showcased on stage at the 18th annual St. Kitts Music Festival held June 26-28, 2014 led to patrons and visiting media alike hailing the event as "the best ever."
"I am extremely pleased with the high quality of delivery of the Festival this year," said Senator Ricky Skerritt, Minister of Tourism & International Transport. "I have received nothing but positive feedback from numerous visitors and locals who could sense that St. Kitts has now established a truly world-class event." Skerritt pointed to the high-energy on-stage performances, combined top-quality event management and an excellent overall Caribbean experience as the main reasons for the large and appreciative crowds.
One of the darlings of the crowd, Tessanne Chin, said of the St. Kitts Music Festival, "It definitely is a full-circle moment. I can only just give thanks to God and to the people of St. Kitts and the Caribbean that have supported me even from before 'The Voice.' It's definitely a moment I will treasure." She opened her performance with a special rendition of "Try," and continued with a nod to fellow Jamaican musician, the legendary Bob Marley by giving a soulful rendition of his hit, "Redemption Song," that was clearly moving to the audience.
Prior to his performance, Grammy-nominated R&B singer-songwriter, actor, author, television producer, former fashion model and MTV VJ, Tyrese Gibson commented, "I'm going to get out there and just make it fun. I'm very happy to be here and I just hope we don't, none of us on this stage, I hope we don't let you all down." Upon hearing his remark, Kelly Rowland, a member of one of the world's best-selling girl groups of all time, Destiny's Child, immediately nodded and concurred, "Absolutely." As the final two acts of the Festival on Saturday night, both artists lived up to their words and went on to wow the crowd with hit after hit.
Said Chronixx, "Blessed love. I came from Jamaica to come sing some songs for the people, good music. Deep thanks to be in St. Kitts, so bless up all the people of St. Kitts & Nevis. One love." His sentiment was echoed by Deniece Williams, American Grammy Award-winning singer, songwriter and record producer, who said, "I'm grateful to be here and I hope to come back again. I hope we'll have a lot more fun coming back again and again."
Celebrating his birthday on Saturday night, the great Freddie McGregor promised and delivered a special performance for the occasion. He stated, "I'm no stranger to St. Kitts, but upon my arrival I did notice something special. We travel a lot, so we can always compare places and things et. cetera, but I must tell the St. Kitts people that your country is on the rise. As for the festival, excellent; production-wise, first class. The audience that I saw last night, even when it attempted to rain a little, people barely moved. These people really love the music so that's what we are going to do tonight."
Now going into its 19th year, the St. Kitts Music Festival attracts both locals and visitors alike. It features a wide range of musical styles on the popular market, including R&B, Jazz, Hip-Hop, Reggae, Soca, Calypso, Gospel and Contemporary music. Past artists have included such prominent acts as John Legend, Lionel Richie, T-Pain, Michael Bolton, K.C. and the Sunshine Band, UB40's Ali Campbell, Wyclef Jean, Ne-Yo, Air Supply, Kenny "Babyface" Edmonds, Shaggy, Toni Braxton, Beenie Man, The Commodores, Dionne Warwick, Billy Ocean, Sean Paul, Boyz II Men, King Konris, Stephen Marley, Regina Belle, Maxi Priest, Beres Hammond, Roberta Flack, Biggie Irie, Bunny Wailer and Lord Nelson.
About St. Kitts
St. Kitts is currently ranked, with sister island Nevis, at #4 on a list of the Best Islands in the World, #2 on a list of the Best Caribbean Vacations, #7 on a list of Best Caribbean Honeymoons, #8 on a list of the Best Affordable Caribbean Destinations and #8 on a list of the Best Beach Honeymoon Destinations in the World by US News & World Report. It is also currently ranked #8 on a list of the Top 10 Best Islands for a Holiday by Places To See In Your Lifetime. In 2012, St. Kitts was named one of "5 Caribbean Islands to Discover Now" by MSNBC. The island was also named one of the "Top 12 Spots that should be on your list for 2012" by Caribbean Travel + Life magazine and a Top Destination for 2011 by both AOL Travel and British Airways.
Located in the northern Leeward Islands of the Caribbean, it offers a diverse tourism product developed from the destination's natural beauty, cultural heritage and rich history. The island's stunning variety of tourism attractions include hiking through the tropical rainforest, riding the scenic railway that connects the island's former sugar plantations, visiting the Caribelle Batik factory, touring Brimstone Hill Fortress National Park, the only man-made UNESCO World Heritage Site in the Eastern Caribbean, and more traditional vacation pastimes such as watersports, golf, shopping, tennis, gourmet dining, gaming at St. Kitts' exclusive casino or simply relaxing on one of the island's sandy beaches. Accommodations range from intimate plantation inns to larger hotels and resorts.