Media Alert: Dancehall Star Stein Unleashes New Album, 'My Story: The Next Chapter'
New York, NY (FOX FUSE) – Dancehall star Stein (formerly known as Einstein) unleashes his new album My Story: The Next Chapter from his very own label New Planet Records, now available worldwide from all major digital retailers, from FOX FUSE. Born Jermaine Lee-King in St. Thomas, Jamaica, and currently residing in Stockholm, Sweden, Stein's music reflects his diverse Jamaican heritage and echoes an eclectic edge that secures a place for his sound with core dancehall and international audiences.
Jammed with 22 sizzlers and one skit, My Story: The Next Chapter is a bonafide showstopper that offers up Stein's modern take on dancehall music, driven by up-tempo, heavy-bass beats laced by both melodic and hardcore vocals that are bound to send dancehall fans into a frenzy. The album was featured on the iTunes U.S. Homepage and Reggae section, during its week of release.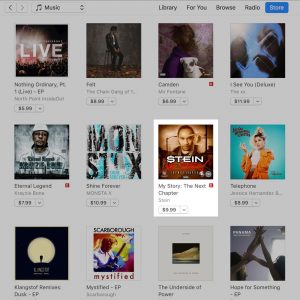 "It's very fulfilling to make music that I love and see it embraced by fans, no matter where I am or where they are," reveals Stein. "A debut on the iTunes U.S. homepage is amazing, and I hope my music continues to find its way around the globe. It's my story but when you listen to it, it's a little bit of all of our stories. So thank you to everyone who worked with me on this album and also thanks to everyone out there for providing me with the inspiration to continue my story."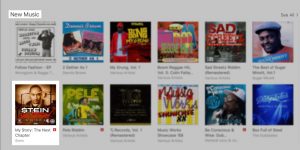 Stein is currently shooting the official music video for the first radio release "Love Potion," which will debut on his VEVO channel in the coming weeks. The album also features dancehall anthems "Some More," "Wanting You," "Dollar Sign," "Watch Man" and "Pilot" featuring dancehall sensation Kalado, alongside new stunners like "Paper Pon Paper" and "Mi Desire (Once Again)." He teams up with some of dancehall's hottest hit makers for this latest studio effort, including Anwar "Kisko Hype" Dacosta (Studio 91 Records), Krishna Davis (Krish Genius Music), Jermaine Sherwood, Steshawn Davis (Crush Road), Emanuel Schirmer (Emudio Records), Andrae Simpson and Rick Andrew Willie (Slik 4our Music Group).
"We've been on this journey with Stein for a few years now and are thrilled to release his second international album through FOX FUSE," states Rhona Fox of FOX FUSE. "He's one of the most prolific lyricists in the dancehall game and with quality productions from the Caribbean to Europe, I am certain this new collection of hits will find a home with fans everywhere," adds Zack Cohen, CEO of FOX FUSE.
Stein is planning album launch events for his fans across Europe, where he will continue to tour extensively throughout the year, as he continues to bring dancehall music far and wide. For further information on Stein, please visit foxfuse.com/stein, instagram.com/steinmusik, facebook.com/steinmusik, twitter.com/steinmusik. Please direct all press inquires to the FOX FUSE Publicity Department at 1-212-300-3813 or contact@foxfuse.com.