Media Alert | Chronixx Reveals New Video, Album Title & 2017 U.S. Tour (via Pitchfork)
CHRONIXX ANNOUNCES HIS 2017 NORTH AMERICAN TOUR
& TITLE OF DEBUT ALBUM
Chronology Slated for Early 2017 Release 
WATCH First Visual "Majesty" From Album (Pitchfork Premiere)
Jamaican roots artist Chronixx, a pioneering force in the contemporary reggae movement, is proud to announce his biggest tour to date and his debut album title, both named Chronology.
This year alone, Chronixx & Zincfence Redemption Band headlined tours in Africa, Japan, Europe and North America and rocked major festival shows like Coachella (USA), Austin City Limits (USA), Lovebox (UK) and One Love (Italy) as well as supported the iconic UK rock band Stone Roses at Manchester City Football Club's Etihad Stadium.
In 2017, the 24-year-old singer and his band expand on this success, kicking off their massive North American tour on March 2 in support of Chronixx's first full length album Chronology (slated for an early 2017 release). The Chronology Tour spans 39 cities across the U.S. and Canada. Tickets go on sale this Wednesday December 14, 2016. Dates below and here.
Chronixx reveals his first visual "Majesty" from Chronology. The song, a beautiful interpretation of Otis Gayle's 1971 Studio One classic "I'll Be Around" (originally sung by the '70s soul group The Spinners), is also featured on Chronixx's most recent mixtape Roots and Chalice curated by NYC's Federation Sound.
"Majesty is about a spiritual vibration, the divinity within the woman and the balance that can be found within I&I. It's celebrating that union," explains Chronixx. In the visual, directed by Chronixx and Che Kothari, the singer serenades his love in a dreamy scenario, set on Jamaica's lush north coastal property Strawberry Fields Together in Robin's Bay, St. Mary.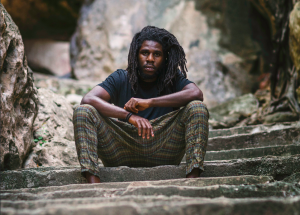 About Chronixx
Born Jamar Rolando McNaughton on October 10, 1992, Chronixx was musically nurtured from an early age by his father, dancehall artist Chronicle, and grew up surrounded by the likes of Burro Banton and Gregory Isaacs. Chronixx's youthful voice carries the wisdom of generations of reggae singers before his time and holds a positive message for the youth of this generation.  In 2014, his music propelled him into international stardom. His Dread & Terrible project, featuring hits like "Here Comes Trouble" and "Captureland," immediately topped the Billboard (U.S.) Reggae chart. He was lauded by the likes of VOGUE, Vice & New Yorker as the leader of the reggae revival and landed performances on major stages including The Tonight Show Starring Jimmy Fallon (2014), NYC's Central Park Summerstage (2014), Governer's Ball (2015) and many more.
https://www.youtube.com/ChronixxMusic | Subscribe
https://soundcloud.com/chronixxmusic
https://www.facebook.com/chronixxmusic
https://www.instagram.com/chronixxmusic
https://twitter.com/ChronixxMusic
http://www.chronixxmusic.com
Chronixx & Zincfence Redemption – Chronology North American Tour 
3-02 in NEW HAVEN, CT @ Toad's Place
3-03 in BOSTON, MA @ Paradise Rock Club
3-04 in NEW YORK, NY@ Irving Plaza
3-07 in DETROIT, MI @ El Club
3-09 in LOUISVILLE, KY @ Mercury Ballroom
3-10 in COLUMBUS, OH @ Al Rosa Villa
3-11 in CHICAGO, IL @ Metro
3-14 in LAWRENCE, KS @ Granada Theater
3-15 in DENVER, CO @ Cervantes' Masterpiece Ballroom
3-17 in SEATTLE, WA @ The Showbox
3-18 in VANCOUVER, BC @ Commodore Ballroom
3-19 in PORTLAND, OR @ Wonder Ballroom
3-21 in SACRAMENTO, CA @ Ace of Spades
3-23 in SAN FRANCISCO, CA @ The Fillmore
3-24 in REDWAY, CA @ Mateel Community Center
3-25 in SANTA CRUZ, CA @ The Catalyst
3-26 in RENO, NV @ Whitney Peak Hotel – Cargo Concert Hall
3-28 in FRESNO, CA @ Strummer's
3-31 in SANTA ANA, CA @ The Observatory
4-01 in LOS ANGELES, CA @ The Fonda Theatre
4-02 in SOLANA BEACH, CA @ Belly Up
4-04 in TEMPE, AZ @ Club Red
4-05 in ALBUQUERQUE, NM @ Sunshine Theater
4-07 in HOUSTON, TX @Warehouse Live – Ballroom
4-08 in DALLAS, TX @ Trees
4-09 in AUSTIN, TX @ Euphoria Camping and Music Festival
4-10 in NEW ORLEANS @ Republic
4-13 in FT. LAUDERDALE, FL @ Revolution
4-14 in JACKSONVILLE, FL @ Mavericks at the Landing
4-15 in ATLANTA, GA @ Masquerade
4-16 in ASHEVILLE, NC @ The Orange Peel
4-18 in CARRBORO, NC @ Cat's Cradle
4-19 in NORFOLK, VA @ The Norva
4-20 in SILVER SPRINGS, MD @ The Fillmore
4-21 in PHILADELPHIA, PA @ Theatre of Living Arts (TLA)
4-26 in MONTREAL, QUEBEC @ L'Olympia
4-27 in LONDON, ONTARIO @ London Music Hall
4-28 in TORONTO, ONTARIO @ Rebel Complex
4-30 in HUNTINGTON, NY @ The Paramount