Download the feature singles from Phil Simpkin's Deep Roots Selections by Various Artists
Phil Simpkin, lead singer & guitar player from Huntington Beach, California based band The Simpkin Project, selects some of his top Deep Roots Reggae selections for a new Spotify playlist on the Dub Rockers Spotify page. Download these feature tracks now from the playlist.
The Congos 'Fisherman' from the 40th anniversary edition of the iconic reggae album "Heart of the Congos" available June 9th.
Freddie McGregor 'Rhythm So Nice' from the album "The Anthology" out now.
Jacob Miller 'Forward Jah Jah Children from the album "Chapter A Day" out now.
Dennis Brown 'Should I' from the album "Words of Wisdom" out now.
Check out/follow Phil's full playlist on Spotify: https://open.spotify.com/user/dubrockers/playlist/0mmjZeaaHic0hUJVjq4L7u
Share the Spotify playlist on your social media tag @dubrockers and @simpkinproject and we will be sure to show some love.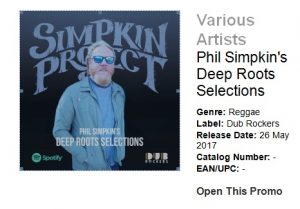 Follow Simpkin Project
Facebook: https://www.facebook.com/SimpkinProject/
Instagram: https://www.instagram.com/simpkinproject/
Twitter: https://twitter.com/simpkinproject
Follow Dub Rockers
Facebook: https://www.facebook.com/DubRockers
Instagram: https://www.instagram.com/dubrockers/
Twitter: https://twitter.com/dub_rockers