Junkanoo Carnival electrifies Grand Bahama
FREEPORT, Grand Bahama — Bahama's Junkanoo Carnival descended onto Grand Bahama delivering powerful performances described by Festival Chairman Paul Major as a "celebration of Bahamian talent". Thousands of Bahamians and international visitors flooded Taino Beach on Friday and Saturday to amp up the music, soak up the culture and turn up the vibes with Bahamas Junkanoo Carnival presented by BTC.
Despite a late start due to rain on Friday night, the Music Masters Song Competition thoroughly impressed the crowd. Jive, a new girl's group on the scene, opened the night with an incredible performance that secured their place in the Top 10. Inagua native Avvy, shredded the stage with his yellow suit and electric moves, supported by a contingent of fans from Inagua, w ho flew to Grand Bahama just to show their support. Avvy also advanced to the finals. In addition to the song competition, Bahamians like Geno D electrified the crowd.
"I could not help but marvel at how our Junkanoo Carnival events are taking on their own Bahamian character. The quality and fusion of the locally produced music and the variety of local and international artists are greatly helping to define our festival," said Paul Major, Chairman of the Bahamas National Festival Commission (BNFC) Chairman.
"The Grand Bahama Carnival Kickoff has soared to a new level and the bar has been raised yet again for Nassau. It was truly an event to remember. The crowd was unbelievable. The tourists came to the island and turned out in much greater numbers this year. Geno D was an absolute sensation. I look forward to an equally exciting event in Nassau," said Major.
The two-day festival delivered pure music, culture and vibes thanks to the organizational efforts of Ginger Moxey, Event Consultant for the BNFC, and Production Manager George "Jimmy" Smith. Despite the extreme pressure, their team pulled together to deliver a spectacular event.
Bahamian legend Ronnie Butler opened the Saturday night concert, garnering laughs, applause and absolute attention as he held the audience in the palm of his hands. Stileet's high octane performance was a crowd pleaser as expected. The five-star general of rake n scrape danced, jumped and wowed the crowd. Not to be outdone, D Mac smashed onto stage claiming it as his and his alone. While the international performers, including Ricardo Drue, Olatunji and Scherwin Winchester also crowd pleasers, the Bahamian acts stole the show.
"The celebration of Bahamian music is a part of the linkages required for our tourism growth and development," said Minister of Tourism Obie Wilchcombe, who also said he is excited for carnival's move to Nassau in the coming weeks. He expects the Nassau festival to be a "great event," noting that every time a Bahamian goes on stage they rise to the occasion.
"If we are going to form the linkages we have to do it through food, which is culinary, our entertainment and through our culture. By bringing people out, international visitors as well as domestic tourists, it will cause a more expanded celebration of who and what we are."
He said carnival will only get better as time goes on. "The truth is people love it," he said. "And we have to have events that draw people out."
The weekend was very much a family friendly affair as intended. Scores of children were on the field, some holding bubble guns and littering the air with the circular water shapes. At times confetti was shot into the air, pumping up the crowd closest to the stage.
"I love it. This is my second year," said Tony Storr, who was visiting from Florida.
"Last year I was in Nassau and this year I'm in Freeport. So it's back to back.
"I will definitely be back for next year. It's better in The Bahamas."
Ten artists in the Music Masters Song Competition competed on each night of the event. They were vying for a shot at the $20,000 grand prize. The Top 10 was announced on the final night.
Gladys Sawyer, a Freeport native, said she was impressed by the level of talent by the Bahamian performers.
"I'm very proud and surprised of the level of talent and the effort and energy they put into it," she said. "It really brought Bahamian music to the level it should be. So I just see it blossoming and going into Nassau. It's really at that level."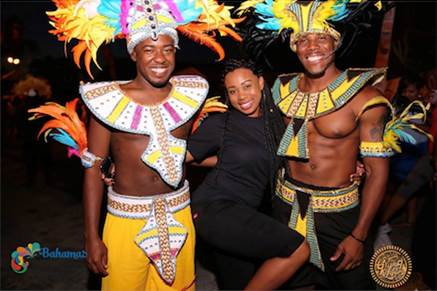 Bianca Lewis, another Freeport native said, "This was my first time attending carnival but it was very nice. I like the culture that the Bahamian artists put into their songs and performances."
San Francisco native Bertina and her family of four stood mesmerized by the grand stage at Taino Beach. "We love the island," she said. "We love the people. We love the food. We love everything. I think that the drinks were great. This was wonderful."
Her relative, Tristan, said the event was "amazing". "I haven't joined the big crowd yet but I'm excited to get in there and start dancing," he said, as relatives snapped pictures of him.
Carnival heads to Nassau for three days of music, culture and vibes, May 5-7. Tickets are now on sale at any Cash & Go location, countrywide, or online at BahamasJunkanooCarnival.com.
Tickets to Da Cultural Village are $15 on Thursday and Saturday. On Friday for the Music Masters Song Competition Finals and Mega Concert, tickets are $25 for General Admission and $75 VIP. Da Cultural village will be free every day from 12pm-6pm.