Bunji Garlin, Fay Ann Lyons and Shenseea Rocked BET Experience Live
This past weekend, the star-studded BET Experience Weekend hit the Staples Center in Los Angeles, leading into the BET Awards held Sunday June 24th. On Friday, July 22nd BET Experience Live featured VP Records artists Bunji Garlin and Fay Ann Lyons. The show also featured a special 25th anniversary Reggae Gold Tribute by dancehall sensation Shenseea whose "Nothing Dem Nuh Have Ova Mi" is featured on this year's album. Other artists who performed included Derez Deshon, Konshens and Safaree Samuels who also served as a host alongside Latin singer and "Love and Hiphop" personality, Amara La Negra. There were additional appearances by Jermaine Dupri, Trevor Jackson from movie Superfly and Power actor and singer, Rotimi.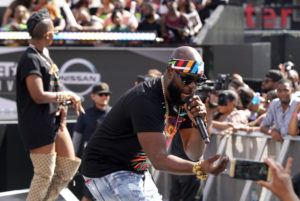 Continuing to make waves in the dancehall, reggae and pop genre, Shenseea has continued to make herself a household name. Along with an upcoming EP, she also has a song with International pop superstar Christina Aguilera on her new album "Liberation" titled 'Right Moves" featuring Keida. She was the perfect voice to speak on the 25th anniversary of Reggae Gold, out July 27th as she represents the new school of dancehall and Reggae Gold which has continued to be a brand that has supported new dancehall and reggae artists by giving them a platform for their music to reach a wide audience. Her breakthrough hit "Loodi" was featured on Reggae Gold 2017 and has continued to grow in YouTube views and streaming numbers since.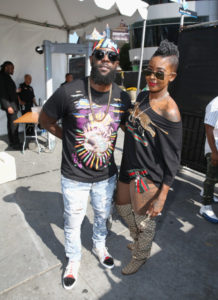 After her performance of "Loodi", Jamaican born Safaree stated that Reggae Gold is an institution and asked the budding musician how it feels to be part of the 25th anniversary release. "It feels really good, I have to send a special big up to VP Records. Being that we know that reggae and dancehall music is originally from Jamaica and I was born and raised in Jamaica, I am just happy to see that its moving and growing globally each and every day."
The show wouldn't be complete without soca and carnival vibes and there was no one better to deliver that than Soca's royal couple Bunji Garlin and Fay Ann Lyons. They performed their latest singles "Block the Road" by Fay Ann Lyons and the soca anthem "Big Bad Soca." The performance included carnival dancers, featuring Blacka Di Danca and crew to keep the crowd moving and energized.
Following their performance, hosts Safaree and Amara La Negra asked them a series of questions. When asked about Fay Ann's moniker 'Aza Sefu', she stated that the meaning is powerful sword and she is a leader and not a follower. "I believe women can be anything they wanna be." Fay Ann also gave special props to Amara's individuality and staple afro hairstyle as she said " I watch Love and Hip hop and I support you 100 percent, Don't try to be anyone else, look like you!". In one of the more special moments of the show, the hosts invited Bunji and Fay Ann to lead a selfie of the entire audience that day. Performances by Konshens and Safaree concluded the show.
SEE BUNJI GARLIN AND FAY ANN LYONS PERFORMANCE AND INTERVIEW
SEE SHENSEEA'S PERFORMANCE AND INTERVIEW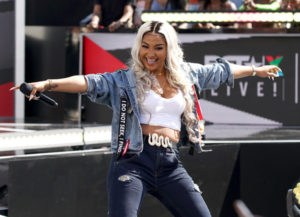 About BET Experience Live
Bringing together hundreds of thousands of fans, celebrities, and thought leaders, BET Experience and the BET Awards are a whirlwind celebration of culture. As they head into the sixth year of the BET Experience, their exciting multicultural music and entertainment festival will continue to focus on the millennial experience while providing loyal fans with the opportunity to touch the brand and its culture in an active and experiential way.