Bunji Garlin & A$AP Ferg Collab + New Album Drops Aug 12
BUNJI GARLIN NABS A$AP FERG FOR "TRUCK ON D ROAD (REMIX)"
OFF HIS EAGERLY-AWAITED ALBUM DIFFERENTOLOGY
DUE AUGUST 12 ON RCA/VP RECORDS
Funkmaster Flex Premieres the Trap Cut on Hot 97 and InFlexWeTrust
"Garlin is on the verge of the elusive crossover success….merging of soca with EDM… expanding the future of Trinidad's homespun genre."
– The FADER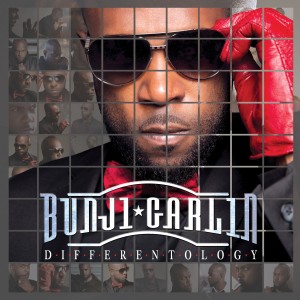 "Soca's new leader…putting a uniquely Caribbean sound firmly on the map."
-BET.com
Bunji Garlin kicks into high gear this week to rev up for his new album Differentology, available August 12, 2014 on RCA and VP Records. The Trinidadian soca star teams up with A$AP Ferg on the album's latest single Truck On D Road (Remix), produced by Toronto's Doc and Jes. Funkmaster Flex exclusively premiered the trap remix on Hot 97 and InFlexWeTrust.
Garlin knew the Ferg would be the perfect fit for the track. "I met Ferg in Trinidad when he came for Carnival 2014 and like that we just clicked. We started talking to each other on all sorts of music topics like we've known each other for years, so when I sent "Truck On The Road" to remix for the different markets, it was just a breeze. He flipped into Trini lingo. Seeing that he has some roots here, he wanted to fit into the vibe of it," he explains.
The remix appears on Garlin's much anticipated album Differentology, which will be his first full-length release since 2007's Global and follows his recently released digital-only EP Carnival Tabanca. On the new 13-track set, Garlin effortlessly blends EDM, hip hop and dancehall with soca.
In support of the new album, he will also be hitting the road throughout the summer with dates on Mad Decent's Block Party tour and around NYC's Labor Day festivities (including Hot 97's On Da Reggae Tip).
BUNJI GARLIN
Born Ian Alvarez, Bunji Garlin a.k.a. the "Viking of Soca" is known for his high-energy stage shows, lyrical confidence and eloquence. The Trinidadian artist and international soca royalty is both a composer and performer of soca and ragga soca. The latter is a blend of soca with dancehall music that he made his own during the start of his career in the late '90s. He has won the "Ragga Soca Monarch" competition in both 2000 and 2001, the Young King title in 2001, the coveted title of International Soca Monarch in 2002 and then reclaimed this title for three more years. In the past year, he has taken the genre to new heights. His explosive single "Differentology (Ready For The Road)," which was remixed by Major Lazer as well as Busta Rhymes, is currently a massive hit in North America more than a year after its release in the Caribbean. In 2013, the single received a Soul Train Award win for Best International Performance, was featured on ABC's Grey's Anatomy, won NYC's HOT 97 FM's Battle of The Beats competition and received critical praise across the board from NPR, Rolling Stone, The FADER and more. In 2014, he performed his hit on BET 106 & Park and at SXSW music festival as well as HOT 97's annual Summer Jam.
TOUR DATES:
AUG 1 – 3 @ Caribana 2014 Festival in Toronto, Canada
AUG 3 @ Sound Academy, Toronto, Canada
AUG 10 @ O2 Academy in Islington, England
AUG 29 @ JBL Live at Pier 97 (HOT 97 On Da Reggae Tip) in New York City, NY
AUG 30 @ Whitewater Amphitheater (Mad Decent Block Party) in New Braunfels, TX
AUG 31 @ Club Zouk (Mad Decent Block Party) in Dallas, TX
AUG 31 @ Webster Hall (Five Alarm Blaze) in New York City, NY
DIFFERENTOLOGY ALBUM TRACK LISTING:
1. RED LIGHT DISTRICT
2. CARNIVAL TABANCA
3. SAVAGE
4. DIFFERENTOLOGY
5. TRUCK ON D ROAD (REMIX) feat. A$AP FERG
6. WEST INDIAN JUNGLE
7. TOUCHLESS
8. DIFFERENTOLOGY (MAJOR LAZER REMIX)
9. CARNIVAL TABANCA (VIKING REMIX)
10. ALL O'DEM
11. STAGES
12. OVER THE HILLS
13. GI DEM DEY