BP MARIONETTES GROOM NEW GENERATION OF LEADERS & SINGERS DURING 50TH ANNIVERSARY SEASON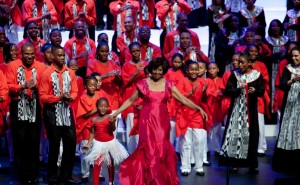 (Photos courtesy of Buch & Allan Limchoy)


 
MONDAY 1st JULY, 2012 (PORT OF SPAIN, TRINIDAD & TOBAGO): Next weekend, when the BP Marionettes Chorale takes to the Queen's Hall stage with the first concert of their 50th anniversary season, Landmarks, their tireless conductor and artistic director Gretta Taylor will have been leading them for 39 of those 50 years. She found herself with baton in hand after what she describes as a "crisis of succession". But Taylor – like her colleagues Joanne Mendes and Susan Dore, who all joined the Marionettes leadership in 1974 – are students of history. After nearly four decades at the helm, they approach the 50th anniversary not only with nostalgia, but a careful eye for the future as they prepare another generation to carry on the Marionettes' rich musical and artistic traditions. Anyone who attended the Marionettes' Christmas concert last year, Celebrate Hope, would have noticed something unusual. Though members of the choir and
guest conductors have taken the baton at Marionettes concerts before, this was the first time that the group's new assistant musical director, composer and conductor Dr. Roger Henry, took his position before the choir. It was something that was a long time in coming. Henry was a singing member of the Marionettes in the 1990s, before departing for the US and completing a doctorate in music (specialising in choral conducting), and remembers Taylor laying the groundwork for succession even before his departure. When assistant musical director since 1974, Susan Dore, transitioned to being the group's Property Fund director in 2011 and Henry returned to Trinidad in 2012 first to adjudicate the last Music Festival and then permanently, the rest was purely academic.
The Marionettes' transition into new leadership has been happening gradually for years. Over the last five, their organising committee has grown to encompass three generations, with committee members Jacqueline Smith and Caroline Taylor taking on positions of assistant production manager and assistant artistic director. The musical team has also grown to include versatile instrumentalist Jane Carter and composer/arranger Darren Shillingford as repetiteurs, supporting Taylor and Henry.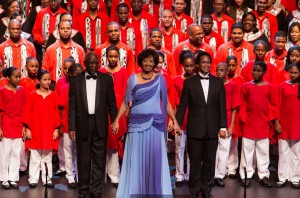 (Photos courtesy of Buch & Allan Limchoy)
In fact, the Marionettes' future looks very bright, as new generations of singers continue to blossom in the group. In 1995, the Marionettes Youth Chorale was formed in response to calls from parents for a creative outlet for young people. Taylor has since trained the younger choir to share the stage with their adult counterparts, and to host and perform with international touring choirs. Many former Youth Chorale members are now singing in the adult choir (some perform
with both). Then in 2012, after observing the outstanding talent of the youngest members of the Music Festival, Taylor founded the new Children's Choir, with its show-stealing youngest member being just six years old. From Schools' Soca Monarchs to SanFest and Musical Festival winners, they are every bit as talented and disciplined as their teen and adult counterparts.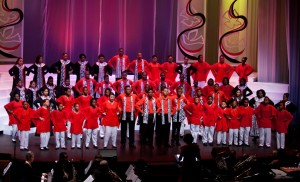 (Photos courtesy of Buch & Allan Limchoy)
Under the batons of Taylor and Henry, the Children's, Youth, and adult Marionettes choirs take to the stage to celebrate the organisation's sterling 50-year history next weekend with Landmarks. In a programme spanning Broadway, opera, calypso, gospel, jazz, spirituals and more, the group revisits some of their proudest moments, including award-winning performances at local and
international competition; Caribbean premieres; and classic arrangements of regional favourites. Performing will be some of the group's best-loved soloists – Jacqueline Johnson, Feryal Qudourah, Hermina Charles, Garfield Washington, Marlon De Bique, Ayrice Wilson, and many more.
***