BASSink Productions Drops New Crop Over Hit from Lil Rick
Barbadian powerhouse BASSink Productions drops its new soca jam "Wine Teef" from Bajan thriller Lil Rick, available worldwide from all major retailers on June 3, 2016, with pre-order available now, from FOX FUSE. Created for Barbados' 2016 Crop Over season, its annual carnival celebration that is currently underway.
Having collaborated in the past with BASSink Productions on other smash songs such as "Gym Instructor" and "Boom Boom Jump," Lil Rick brings a smooth track that is sure to be played everywhere this summer and enjoyed at carnivals around the world. Groovy and upbeat, "Wine Teef" stays true to Lil Rick's signature up-tempo vocals and energetic delivery, and provides the perfect party anthem for Crop Over and beyond.
Producer Dwain "Dwaingerous" Antrobus, who heads BASSink Productions, has been composing top-quality soca gems for many years now, making BASSink Productions one of the main studios for soca music, worldwide.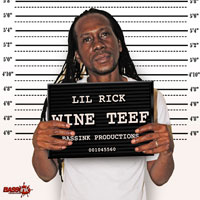 Please direct all press inquires to the FOX FUSE Publicity Department at 1-212-300-3813 or contact@foxfuse.com.